19 finalists chosen for 2015 AutoBild winter tyre test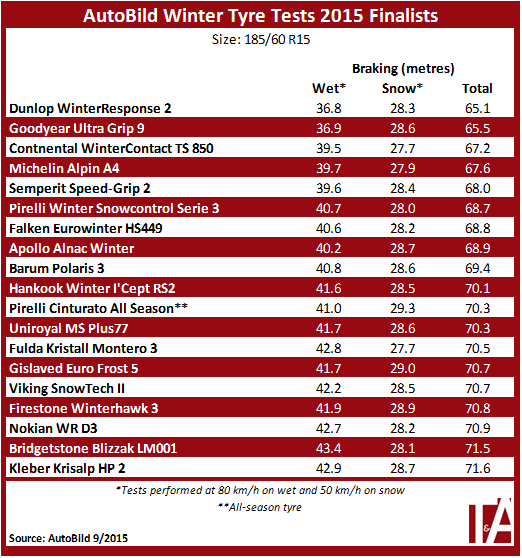 32 tyres eliminated in wet and snow braking tests
In its annual winter tyre performance survey, German motoring publication AutoBild narrows a wide field of 49 winter tyres and two all-season tyres with wet and snow braking measurements before conducting a full test of a range of characteristics. 19 tyres made it through to the 2015/16 season test, conducted using the tyre size 185/60 R15.
A number of tyres fell at the first hurdle because they exceeded the required wet runway minimum stopping distance of 44m at full braking from 80km/h. Brands such as Achilles, Hifly, Imperial, Cormorant, Linglong, Maxxis, Minerva, Nordexx, Rotalla, Sailun, Taurus, Tigar, Tracmax, Tristar, and Zeetex joined Avon's Ice Touring, Aeolus' SnowAce AW02, Cooper's WM-SA2, Nankang's Winter Activa SV-2, Marshal's I'ZEN MW15, Nexen's Winguard Sport, Toyo's Snowprox S943, and the Vredestein Snowtrac 5 in elimination.
While others made it past this 44m mark, only the best 19 with the shortest total braking distance on wet and snow-covered roads (measured at 50km/h) made it through to the full test of 16 individual disciplines – including handling, traction, aquaplaning safety, noise, and rolling resistance. In this second round, the BFGoodrich g-Force Winter, Goodyear Vector 4Seasons, Kumho Winter Craft WP51, Ovation W-586, Sava Eskimo S3+, Matador MP92 Sibir Snow, Sportivas SnowWin, Torque TQ022, and Yokohama W.drive V905 were also eliminated.
The tyres making it to the final were:
Apollo Alnac Winter
Barum Polaris 3
Bridgestone Blizzak LM001
Continental WinterContact TS 850
Dunlop WinterResponse 2
Falken Eurowinter HS449
Firestone Winterhawk 3
Fulda Kristall Montero 3
Gislaved Euro Frost 5
Goodyear Ultra Grip 9
Hankook Winter I'Cept RS2
Kleber Krisalp HP 2
Michelin Alpin A4
Nokian WR D3
Pirelli Cinturato All Season
Pirelli Winter Snow Control Series 3
Semperit Speed-Grip 2
Uniroyal MS Plus 77
Viking Snowtech II
Tyrepress has reported details of the final here, in which each of the final 19 tyres was tested in full.