Astutus Research Tire Market Forecasts
Report series available now on Tyrepress, including the new 'Supply Dynamics in the European PCLT Tire Industry to 2028' briefing, the latest 'Europe PCLT Tire Market Supply & Demand Forecasts to 2026' report, and updated OE and Replacement PCLT Tire reports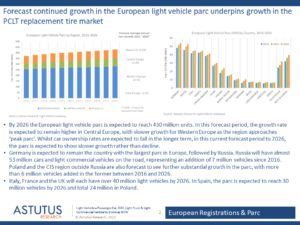 Supply chain disruption, component shortages, economic turmoil, but also growing demand: global passenger car and light truck tire (PCLT) markets are facing more turbulence after Covid.
To help tire business professionals and analysts understand the current outlook, Astutus Research presents a series of reports, delivered as region and segment based PowerPoint briefings with accompanying Excel data-packs, giving a detailed review of developments in the original equipment and replacement PCLT tire markets, including forecasts for the period to 2026 and beyond.
The Excel data-packs contain detailed data on PCLT original equipment and replacement tire volumes by region and country from 2016 and forecasts to 2026.
Existing subscribers to Tyres & Accessories and Tyrepress.com can acquire the reports at a special price.
If you do not currently subscribe, you will receive a complimentary 12-month subscription to Tyres & Accessories magazine alongside full access to Tyrepress.com.
Click the links below for further information on each report in the series, including contents and pricing. Purchases will be delivered via email following confirmation of payment.
All reports are updated on a quarterly basis.
For more details, contact us on info@tyrepress.com.