TPMS
&

Sensor Technology 2021

A Tyrepress Digital Feature, supported by
Michelin has announced pioneering plans to equip all its new car tyres with Radio Frequency Identification (RFID) chips by 2023. Continuing its long history in the development of tyre-orientated RFID technology (including the global launch of a truck tyre RFID solution in 2012) Michelin says up to 1.5 million RFID-equipped car tyres will be delivered as early as 2020.
The ultimate goal for Michelin is to use RFID technology to make tyres that "communicate" by linking them to a more global ecosystem. According to the company, this creates "infinite potential for innovations and added value for its customers". In particular, RFID allows improved tyre management from factory to end of life via its role in offering predictive maintenance services.
While 2020 was a challenging year for the aftermarket, Autogem has reflected on a number of positives amid the turbulence which have cemented its position as a supplier of automotive chemicals, fasteners, hand tools, tyre and workshop consumables and exhaust fittings. Indeed, the firm's TPMS programme represents a key highlight, with the company can lay claim to being "genuine innovators" in this segment.
In the last 12 months, Autogem has strengthened its product portfolio significantly with the unveiling of the I-sensor Pro handheld device, featuring Wi-Fi connectivity, wireless Bluetooth and an integrated auto-focus camera. In addition to product developments, Autogem's supporting materials are designed to empower customers. The range of support materials includes bespoke training, a new-and-improved NTDA-certified e-learning course and a free diagnostic workflow poster and videos.
Quayside Tyres unlocks TPMS opportunities
Tyrata, Inc. has launched Tyrata.io, a cloud-based data portal for its IntelliTread tyre tread monitoring products. Tyrata.io works in combination with Tyrata's Drive-Over System (DOS) to provide direct tyre measurement and real-time tread wear analysis for large vehicle fleets. According to the company, the solution has no hardware cost and is deployed within hours with no impact to current fleet operations.
The IntelliTread Drive-Over System collects tyre tread wear data when a vehicle drives over a speedbump-like unit that is now linked to Tyrata.io, a cloud-based data analytics platform to inform service and depot managers about the actual condition of their tires in real time.
ATEQ TPMS Tools has launched the "Live Sensor" platform, purportedly the first real-time updating portal for every sensor maker that is in ATEQ tools. On 2 November 2020, ATEQ announced that "Live Sensor is a brand-new, patent-pending technology that allows sensor information to be updated in real-time, allowing users to keep their tool updated as new information is added".
The Live Sensor platform is designed for constant updating. Sensor manufacturers no longer have to wait for quarterly software updates to amend their information. For example, during the Winter season in the European market, sensor information is updated constantly to keep up with new vehicles. In the North American market, adjustments to sensor information are made continuously to keep up with a more mature market. The Live Sensor platform is meant to keep pace with every market environment around the world.
Tyrepress podcast: Autogem's Prashant Chopra
Read this feature and more in Tyres
&

Accessories, January 2021
Continental is launching ContiConnect Live, a digital tyre pressure monitoring solution designed to complement ContiPressureCheck and ContiConnect Yard. With ContiConnect Live, the collected data on tyre pressure and temperature are sent in real time to the cloud using a central telematics unit. In addition, the unit transmits the vehicle's location using GPS and records the operating hours of the tyres. Fleet managers have a quicker and more comfortable overview of the condition of the vehicles regardless of their location. By evaluating the information, the fleet benefits from reduced downtime, lower maintenance costs and an extended operating time.
ContiConnect Live is said to be available for all tyres from Continental equipped with sensor technology. The application is being rolled out first in Spain, Switzerland, Austria, Denmark, UK, Sweden, Norway, France and Portugal. Other European markets will follow.
Continental has demonstrated real-time tyre tread depth monitoring during a pilot project with Danish carsharing provider Share Now and telemetry specialist Traffilog. The project confirmed Continental's ability to predict tyre tread depth in real-time to an accuracy within one millimetre.
The tyre maker achieved this feat by linking tyre senor information and telemetry data from Share Now's fleet of electric vehicles with a proprietary, cloud-based algorithm. It anticipates that smart digital tyre solutions like this will be a key driver of need-based tyre servicing in future, a format it expects will replace scheduled, interval-based servicing.
The Goodyear Tire & Rubber Company and SafeAI have entered into a strategic relationship to incorporate tyre intelligence into the programming of autonomous heavy equipment vehicles. Through an integration with the SafeAI autonomous ecosystem, the companies will exchange site data in a move designed to "protect tyre health, eliminate downtime and contribute to a smarter, safer standard for the construction industry". Specifically, tyre intelligence from Goodyear's TPMS Heavy Duty rim-mounted sensors will be deployed at an active construction site in Cupertino, California.
As a result of the collaboration, Goodyear will outfit a Caterpillar 725, retrofitted with SafeAI's autonomous software, to capture pressure and temperature data and monitor overall tyre health. These sensors can identify and communicate adverse conditions before they cause maintenance issues and derail a project.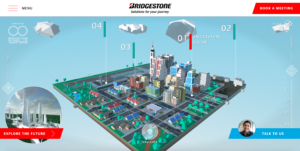 Bridgestone's CES 2021 exhibit presents a fittingly virtual exhibit this year. During the tech-focused US Consumer Electronics Show (CES), which has been held virtually this year from 11-14 January 2021, Bridgestone is presenting its Bridgestone World interactive virtual city will allow users to explore the company's advanced solutions and data-driven mobility services. Live and on-demand showcases will examine how the company is using smart tyre technology, advanced data analytics and new business models to put tyres at the centre of a more sustainable mobility system.
Sumitomo Rubber Industries has been working together with Japan's Gunma University since last year to develop a system that remotely monitors tyre pressure in driverless vehicles. The tyre maker reports that, having created a system that works with Level 4 autonomous vehicles, it conducted a successful proof-of-concept test of this new system on public roads on 12 November.
Hankook Tire & Technology Co., Ltd. Is jointly developing a road hazard detection solution with SK Planet. According to the companies, the sensor is designed to determine road conditions using artificial intelligence and deep learning technology in order to pre-emptively respond to road hazards. Analyzed road surface condition, and risk factors include rainfall, snowfall, black ice and accidents.
It's a little over a year since Maxion Wheels and ZF Openmatics announced they'd teamed up to develop the Smart Wheel, and Maxion now reports that road testing of this connectivity solution will commence in 2020. During the Ioche-Maxion Investor Day 2020, held online yesterday, Maxion Wheels' chief executive officer confirmed that Smart Wheel prototypes would be on the road before the end of the year.
Hamaton Ltd, a leading TPMS product manufacturer, has shared its tips on how to prepare and take advantage of increased TPMS demand. Hamaton's tips are summarised with the words: prepare, train and sell.
Japanese automotive manufacturer, Suzuki Motor Corporation has launched new vehicles onto the market. The advanced driver assistance system (ADAS) installed in the Suzuki Swift and Swift Sport is based on 24 GHz radar sensor technology from Hella.
China's automotive production will have to overcome a shortage of European-produced automotive-related chips well into 2021, which could potentially set back industry recovery amid the pandemic, a report from the Independent Commodity Intelligence Services (ICIS) said in mid-December 2020.