Quayside Tyres unlocks TPMS opportunities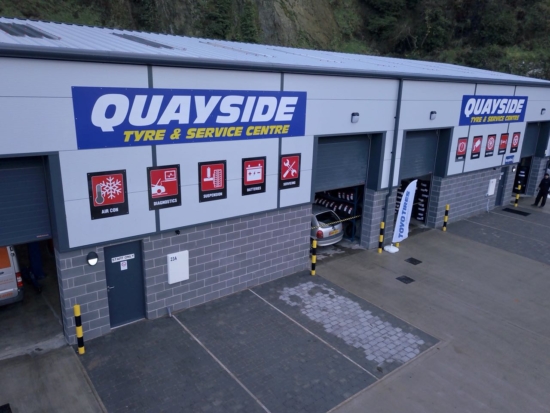 Theory is one thing, but practice is quite another. With this in mind, we took a look at one tyre retailer's real-life experience with TPMS. Quayside Tyre & Service Centre reports that it has enjoyed a fruitful three-year relationship with Autogem, which began with its TPMS programme and i-sensor device, and has gone on to include Michelin Pro Series Wiper Blades for the first time. Here, owner Glenn Harrison reflects on a three-year anniversary with Autogem and outlines the benefits associated with the ongoing partnership.
Tyres & Accessories: How long have you had a partnership with Autogem?
Glenn Harrison: Three years and counting now. Our partnership with Autogem began with the i-sensor handheld tool and because of its effectiveness and ease of use, it has grown ever since.
T&A: What do you like most about working with Autogem?
GH: The range of products and information is a great bonus as well as the support offered. Also the quality of the product is a great factor. They offer a really premium feel and add a sense of professionalism to the business.
T&A: How long have you utilised Autogem for TPMS and how has it helped your business?
GH: Again, it began three years ago and it is more relevant than ever today as more vehicles are fitted with TPMS. We have more customers who come to us with damaged broken sensors than at any time before, as we have developed a reputation as being a specialist in this area.
T&A: What TPMS products do you use?
GH: We have recently purchased the new I-sensor pro which is really user friendly, while we also have the Groove Glove which is a great product to show the customers the condition of their tyres with a printed report. This also integrates with our system software.
T&A: What has your TPMS support experience been like?
GH: Very helpful and easy to get support when needed. Autogem's 'TPMS Tune-Up sessions' have been of particular benefit during lockdown too, as we've had easy online access to training and support whenever we have needed it.
T&A: What have been the biggest benefits of selling TPMS?
GH: The product is very user friendly and ease of use ensures quick installation in turn saving time for both ourselves and the customer. We were promised time savings, an improvement in end-user engagement and an additional revenue stream and that is what we have found to be the case.
T&A: Autogem is also stocking Michelin Pro Series Wiper Blades and you were one of the first customers to stock the. How have you found them?
GH: The wipers have been a good success so far. Having stock allows us to make sales when customers may be in for service, repair or even tyres. It is an additional revenue stream, but more than that, it is a product that really resonates with our customers, who are interested to know more about the benefits.
The ease of installation of the wiper blades and the range of fitments available saves time and increases sales.
T&A: Have any successes in this area surprised you?
GH: I don't think so. Having the Michelin brand behind the product helps sales in my opinion.
Would you use Autogem for other garage consumables as a result of the satisfaction you've had with TPMS and Michelin Pro-Series wiper blades? Yes, due to the support provided alongside each product and the all-round quality of their offering.