Autogem upgrades tyre diagnostics range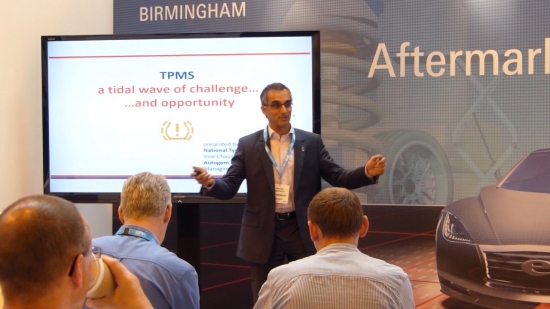 Autogem has unveiled its second generation Treadspec drive-over scanners, offering a more efficient and simplified way to perform simple tyre checks for wear, alignment issues and inflation. The Treadspec 2.0 supplements the company's Groove Glove, which allows garage mechanics to scan all four tyres on any given vehicle and discover the tread depth and alignment of each within 50 seconds.
Treadspec 2.0 allows checks to proceed with no technicians, saving time and adding transparency when presenting the findings to motorists. Automated reports are generated instantly, describing the condition of the tyres with recommendations made accordingly. These can be set to automatically print, with each scan making the customer engagement process even more efficient.
Autogem states that the low-profile ramps are "lighter and more aesthetically pleasing than many rival products," and are "easy to install" in surface mounted (mini-ramp) and flush mounted (embedded) formats. They feature integrated infrared sensors to activate scans and a licence plate recognition camera. The cameras and lasers are better protected, meaning that cleaning in wet conditions is less regularly needed, while stainless steel protection covers avoid the risk of corrosion during the winter season.
Like Groove Glove, Treadspec 2.0 does the job by sending the collected tyre profile data to the cloud, once a vehicle has driven over the ramp. The data is analysed against more than 120 tyre profile wear characteristics before reports are generated instantly. Any alignment and inflation issues are also detected in real time.
Market conditions
Autogem is known for its TPMS specialism, but its broad offering of workshop equipment is similarly designed to create greater depot engagement at the point of sale, significant time savings for technicians and additional revenue streams. The current automotive landscape continues to evolve, with rapid growth in electric vehicles, automation and sensorisation, but the COVID-19 lockdown is providing a unique set of challenges. Autogem managing director Prashant Chopra told Tyres & Accessories about how the company is dealing with the fallout from the pandemic: "Time will tell how the pandemic plays out. Already we are hearing of some percentage of normality returning to China. I think we are just delayed both in infection rates, and also the calm after the storm. As for our customers, if they are seeing the workshops slow down it's a perfect time to jump on our recently updated TPMS e-learning course or our new Michelin wiper blade course to help sharpen their knowledge in time for those returning customers."
Autogem told T&A that it is using online ordering and training platforms to assist customers in mitigating potential disruption amid the disruption caused by the Covid-19 virus. "We have never worked in such unprecedented times, with each day presenting potential new challenges and concerns," said Chopra. "But we want to let our customers know that we are still here and we are still doing all we can to assist them. Our online ordering and training tools are particularly relevant right now, instead of the face-to-face contact that so many are used to receiving. We already have remote working individuals, cloud and VOIP infrastructure that can continue supporting our customers in the event of major disruption at our London offices."
Autogem's online service is also helping it to cope in the event of staff shortages. While online sales are not the typical way that some customers prefer to interact, the company says it is "undoubtedly the most appropriate at this time."  Its TPMS assistant also offers customers a multitude of information, including relearns. It also explains what service kits are needed for OE sensors too. Autogem also offers free online training access.
Chopra adds that in the medium-to-long term, the move to electric/hybrid power trains provides "a challenge for our industry as a whole. The skills, equipment and processes required will certainly evolve over the coming years. We have been keeping a close eye on this for some time now and you may have noticed our major new product innovations over the past few years are not tied to the combustion engine per se."