Autogem unveils I-sensor Pro advanced handheld TPMS solution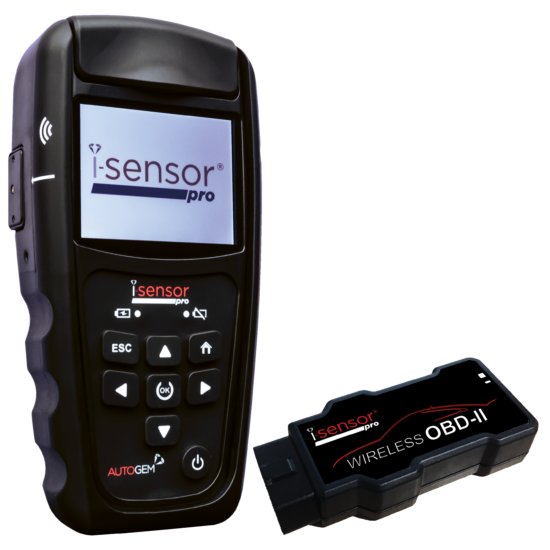 Autogem has launched a new, advanced TPMS handheld solution, the I-sensor Pro, in an online event for customers. The device upgrades the original I-sensor, offering customers increased time-saving and potential revenue generation. The I-sensor Pro features Wi-Fi connectivity, wireless Bluetooth and an integrated auto-focus camera, allowing for instant, personalised tyre pressure reporting. It also features a completely integrated tread depth measuring device. The original i-sensor handheld TPMS servicing device was launched in 2013, and has since sold more than 3,500 units in the UK.
The I-sensor Pro, like the original, duplicates sensors electronically or manually and can create a brand new, unique sensor in a matter of seconds. It diagnoses sensors at the wheel side and boasts 99 per cent coverage of all direct TPMS vehicles in the UK and also includes American vehicle software coverage as standard.
The tool can programme sensors on demand using market leading i-sensor blanks. As a patented programmable blank sensor, no information is preloaded into the sensor. This extends battery life but more importantly, it means that there is no obsolescence by having a sensor on a shelf. It also means that customers don't need to spend time working out which sensor to use as coverage is defined by the tool's software version and not the sensor itself.
Autogem's managing director Prashant Chopra said: "We are widely regarded as being industry leaders in TPMS but it is our installer partners, that now number in excess of 3500 locations, that allow us this accolade. We are so grateful for the time, access and support that these businesses have given us to develop our product and service offering. I-sensor Pro is a result of that access and understanding of our partners' business.
"I-sensor Pro is our next generation TPMS tool. It takes all the functionality of our entry level tool when it comes to diagnosing and programming sensors and then takes it to the next level. It features a faster processor, greater memory, colour screen, integrated camera and tread depth gauge, along with the ability to read VIN number barcodes and QR Codes. The added functionality that this future proofed device provides allows us to deliver additional support and faster solutions, all ergonomically packaged for the tyre technician.
"It is a product that embodies everything we stand for as a company. It is advanced, it will empower our dealer customers and will create an added sense of professionalism on the forecourt thanks to its improved reporting.
"Moreover, it will bolster revenue opportunities and will save significant amounts of time through its user friendly interface and intuitive design as a whole."
Additional features and training
The I-sensor Pro has added a tyre tread measuring device to allow quick and easy diagnosis of any tyres in need of replacement. The device also allows reports to be shared with motorists so they are fully aware of the state of their tyres before next steps are agreed.
Autogem offers a comprehensive training package alongside the product, available online, on paper or on the phone. The company has implemented online 'TPMS tune-up sessions'. These were designed to counteract the loss of traditional face-to-face interaction due to lockdown.
Customers can visit the company's website (https://autogem.co.uk/) to book an online TPMS tune up session during the slot times available to discuss their TPMS experience with a member of Autogem's technical team. The objective of the sessions is point the installer partner to the relevant tools, support and training to help tune up their TPMS sensor and service kit sales.
Chopra added: "We are constantly striving to bring the very best solutions to the aftermarket and we have achieved this with the creation of the I-sensor Pro. We're hugely excited by the potential of the product and we are proud to be bringing it to our customers' forecourts.
"Despite the challenging times we have been working through, the investment in our portfolio has remained, as we continue to provide solutions for our customers that save them time, improves their own consumer engagement and ultimately, increases their revenue streams."