More than 250 million euros will be invested into Pirelli's business in Latin America over the next three years in order to reinforce its 'High Value' strategy within the consumer tyre segment. The investment plan was announced by Marco Tronchetti Provera, executive vice-chairman and chief executive officer of Pirelli, during his visit to the company's recently-upgraded Feira de Santana plant in Bahia – Pirelli's first '4.0 hub' in the region. The investment is included in the Pirelli 2017-2020 industrial plan.
Independent garages from across the UK are being urged to enter Automechanika Birmingham's renowned 'Garage of the Year' awards which is now open for entries, celebrating the unsung heroes of the aftermarket. Sponsored by the Independent Garage Association and run in partnership with Garage Wire, the competition is open to all garage businesses up and down the country.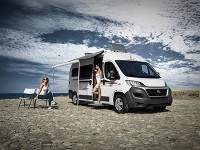 A new Dezent alloy rim has been launched to meet growing demand in the van market. Suited to models such as the Mercedes V Class and VW T5/T6 Crafter, the Dezent Van offers a combination of looks and very high load capabilities. Alcar quips that the new rim is 'Van'tastic.