Cooper Tire Asia has received the 2017 Excellent Supplier award from Beijing Automotive Industry Corporation (BAIC). The award was given at BAIC's recent annual supplier conference held in Beijing. Nearly 150 suppliers were invited to the event where Cooper was presented with the award in the off-road vehicle segment.
New research has shown that just over a third of young adults in the UK have never cleaned their own car, citing the effort it takes and being unable to do a 'good job' as the top reasons why. Furthermore it was found that those that do pay to have their car cleaned usually shell out £16 each time. This means that many in this demographic will spend £192 each year to have their cars cleaned 'professionally'.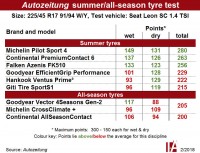 Another German car magazine's summer tyre test has thrown in a handful of all-season tyres for good measure. Autozeitung evaluated a total of nine size 225/45 R17 tyres (W/Y speed rated and 91/94 load indices), six summer and three all-season products. Fitted to a Seat Leon, the tyres were tested in both wet and dry disciplines, with a maximum 150 points up for grabs in each of these.