Instead of just finding dandelions growing in fields, we may soon also find them in the tyres of tractors and other agricultural vehicles that traverse these fields. Balkrishna Industries Limited (BKT) sees a future for these plants as a material within the tyres it makes; it recently entered into a joint research agreement with US biotechnology company Kultevat, Inc. to develop new compounding methods based on TKS/Russian dandelion rubber, with the aim of integrating these into its tyre manufacturing process.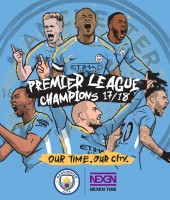 Nexen Tire is revelling in Manchester City FC's Premier League success. Travis Kang, chief executive officer of Nexen Tire, states that as official tyre partner, Nexen is "thrilled" with Manchester City's confirmation as Premier League champion.
FermRFID, a Division of FineLine Technologies, and Camso have announced a multi-year RFID development agreement to commercialize a patent pending RFID solution for solid tyres called the "plug." The solution, which has undergone development and testing by FermRFID and Camso for two years, can uniquely identify tyres and track them throughout the entire supply chain from manufacturing, vulcanization, warehousing, shipping and at customer locations.