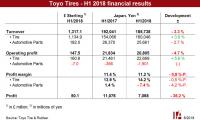 For Toyo Tire & Rubber, the first half of 2018 was a period of mixed fortunes. The manufacturer reports that turnover and earnings within its core tyre business increased 3.9 per cent during the six months to 30 June, with sales of 160,046 million yen (£1.1 billion) and operating income of 22,669 million yen (£160.8 million) resulting in a slightly improved profit margin of 14.2 per cent. Overall sales were down 3.3 per cent, to 185,738 million yen (£1.3 billion), due to decreased turnover within the company's automotive parts business.
GRI has been in partnership with First Industrial Tyres (FIT) for over 10 years where the two companies have worked together in the aftermarket distribution of GRI material handling tyres in the UK. Now that FIT has expanded into Eire with operations in Dublin, so has the GRI distribution deal.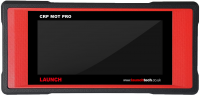 Launch UK has unveiled the CRP MOT PRO, a multi-purpose vehicle diagnosis tool, set to boost support for professional technicians in light of the recent MOT changes, available with over ten special functions.