Autogem ramps up tyre diagnostics range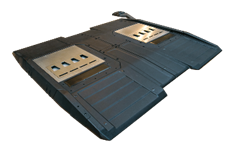 Autogem will unveil its second generation Treadspec drive-over tread scanner at Automechanika Birmingham (4-6 June, NEC Birmingham). The ramp, which the company states has been "extremely well-received" in its domestic USA market, offers a "no labour" diagnostic tool for the aftermarket. It supplements the company's Groove Glove, also developed by Treadspec manufacturer Tire Profiles Inc, which allows garage mechanics to scan all four tyres on any given vehicle and discover the tread depth and alignment of each within 50 seconds.
Autogem's managing director Prashant Chopra said that the addition of Treadspec 2.0 would help to increase professionalism on the forecourt: "We are proud to be in a position to unveil Treadspec 2.0 at Automechanika, which will create a greater sense of reassurance and trust amongst motorists. What's more, it will improve customers' experience in a clear and transparent way, whilst improving customer retention through a more professional experience."
Treadspec 2.0 details
Autogem identifies the fact that no technicians are needed to carry out tyre checks with Treadspec 2.0 as a key benefit. Automating the task saves time and adds transparency when presenting the findings to motorists, it states. Automated reports are instantly generated, describing the condition of the tyres with recommendations made accordingly. These can be set to automatically print, with each scan making the customer engagement process even more efficient.
The aftermarket supplier states that the Treadspec 2.0 is a low-profile, light, and aesthetically pleasing alternative to rival products, adding that they are easy to install. The ramp also features integrated infrared sensors to activate scans. They come in surface mounted (mini-ramp) and flush mounted (embedded) formats, and incorporate a licence plate recognition camera, allowing for photos of the vehicles on the reports.
The cameras and lasers are better protected, meaning that cleaning in wet conditions is not needed as regularly, while stainless steel protection covers avoid the risk of corrosion during the winter season.
Like Groove Glove, Treadspec 2.0 sends collected tyre profile data to the cloud once a vehicle has driven over the ramp. The data is analysed against more than 120 tyre profile wear characteristics before reports are generated instantly. Any alignment and inflation issues are also detected in real time.