Autogem: TPMS programme a positive within the turbulence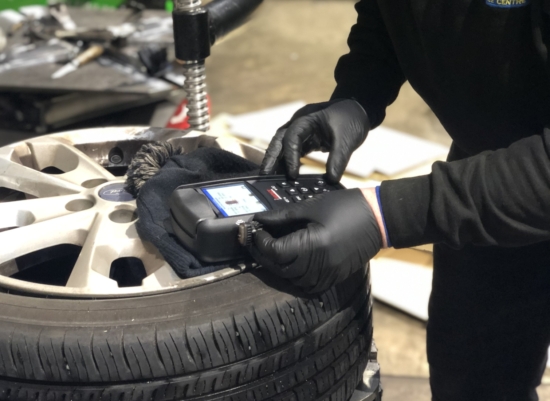 While 2020 was a challenging year for the aftermarket, Autogem has reflected on a number of positives amid the turbulence which have cemented its position as a supplier of automotive chemicals, fasteners, hand tools, tyre and workshop consumables and exhaust fittings. Indeed, the firm's TPMS programme represents a key highlight, with the company can lay claim to being "genuine innovators" in this segment.
In the last 12 months, Autogem has strengthened its product portfolio significantly with the unveiling of the I-sensor Pro handheld device, featuring Wi-Fi connectivity, wireless Bluetooth and an integrated auto-focus camera. In addition to product developments, Autogem's supporting materials are designed to empower customers. The range of support materials includes bespoke training, a new-and-improved NTDA-certified e-learning course and a free diagnostic workflow poster and videos.
According to the company, Autogem's handheld i-sensor device is the fastest selling universal TPMS solution and features fixed-angle and multi-angle sensor designs. The i-sensor interface allows users to diagnose existing sensors, which immediately provides peace of mind. It then duplicates sensors electronically or manually. Alternatively, it can create a brand new, unique sensor in a matter of seconds.
One i-sensor can replace over 98 per cent of the OE sensors in the market, making it an efficient alternative. Autogem reports that its system caters for 124 of the 126 OE sensors on the market and 58 different vehicle manufacturers as a whole.
As a result, the system has reportedly been chosen by over 3,500 tyre retail outlets and service centres throughout the UK. It fights against obsolescence with all new protocol updates via the tool. It also duplicates the ID codes of faulty sensors for the most efficient method of sensor replacement. And it checks tyre pressures without physically touching the valve.
All this takes place via a wireless, contactless scan which diagnoses TPMS sensors, including ID code, pressure, temperature and battery status reports. As a result, the system achieved OE approval in 2014 with one of the worlds most recognised vehicle manufacturers and also used as a main dealer warranty replacement part.
TPMS tune-up sessions
Autogem has also created a new resource for dealers and garages to make the most of via an online video call. Free 'TPMS tune-up sessions' for all existing Autogem i-sensor users, who can book an online session during the slot times available to discuss their TPMS experiences with a member of Autogem's technical team. The objective of the session is to point them to the relevant tools, support and training to help them tune up their TPMS sensor and service kit sales.
Launched in June 2020, the I-sensor Pro duplicates sensors electronically or manually and can create a brand new, unique sensor in a matter of seconds. It diagnoses sensors at the wheel side and boasts 99 per cent coverage of all direct TPMS vehicles in the UK and also includes American vehicle software coverage as standard.
And most impressively of all, it can make sensors on demand using the market leading i-sensor blanks. As a patented programmable blank sensor, no information is preloaded into the sensor. This extends battery life but more importantly, it means that there is no obsolescence by having a sensor on a shelf. It also means that customers don't need to spend time working out which sensor to use as coverage is defined by the tool's software version and not the sensor itself.
Autogem managing director Prashant Chopra said: "We are widely regarded as being industry leaders in TPMS but it is our installer partners, that now number in excess of 3500 locations, that allow us to lay claim to being leaders. We are so grateful for the time, access and support that these businesses have given us to develop our product and service offering. I-sensor Pro is a result of that access and understanding of our partners' business.
"I-sensor Pro is our next generation TPMS tool. It takes all the functionality of our entry level tool when it comes to diagnosing and programming sensors and then takes it to the next level. It features a faster processor, greater memory, colour screen, integrated camera and tread depth gauge, along with the ability to read VIN number barcodes and QR Codes. The added functionality that this future proofed device provides allows us to deliver additional support and faster solutions, all ergonomically packaged for the tyre technician.