Continental Tyres awarded 2020/21 Superbrands Status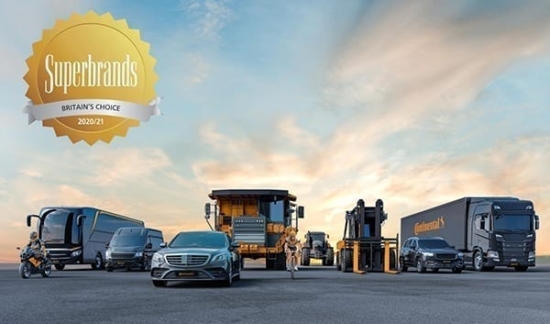 Continental Tyres has been awarded Superbrands status for 2020/21, recognised for "establishing an exceptional reputation in its field". The Superbrands organisation identifies and pays tribute to exceptional brands throughout the world in over 85 countries. This year's survey evaluated a shortlist of 1,600 consumer facing business brands across 74 categories from Automotive Products to Watches.
The Superbrands survey process is independently run with one of the world's leading data research companies and has been tracking the perception of a wide range of consumer brands in the UK since 2001. It follows a voting process involving 2,500 UK consumers, supplemented by an expert council comprising 30 senior industry figures. A Superbrand is evaluated against three core factors, quality, reliability and distinction – as well as being influenced by both short and long term factors, such as the brand's current profile, latest marketing activities and new product or service developments.
Damon Segal, Co-Founder, The Academy of Chief Marketers (Superbrands UK) commented: "We are excited to have Continental Tyres on board with us and look forward to them being part of our community of collaborative senior marketing and brand focused members."
Tracey Mortimer, marketing director at Continental said: "Achieving Superbrand status for yet another year is a huge honour for Continental. We are proud of this affirmation of our core brand values in trust, excellence and passion. Continental puts safety first and this, along with our innovative approach, resonates well with consumers. We have established a rich, 150-year heritage in developing ground-breaking technology and mobility solutions. Every day our teams at Continental strive for the absolute best, pursuing innovation and creating something outstanding."