Michelin to fit RFID in all car and truck tyres by 2023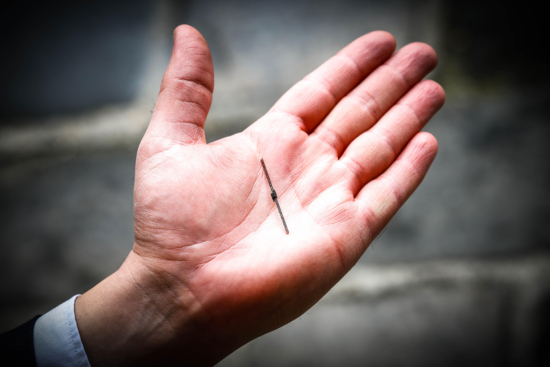 Michelin has announced pioneering plans to equip all its new car tyres with Radio Frequency Identification (RFID) chips by 2023. Continuing its long history in the development of tyre-orientated RFID technology (including the global launch of a truck tyre RFID solution in 2012) Michelin says up to 1.5 million RFID-equipped car tyres will be delivered as early as 2020.
The ultimate goal for Michelin is to use RFID technology to make tyres that "communicate" by linking them to a more global ecosystem. According to the company, this creates "infinite potential for innovations and added value for its customers". In particular, RFID allows improved tyre management from factory to end of life via its role in offering predictive maintenance services.
OE applications of tyre RFID
In addition, Michelin reports that "Work with car manufacturers is providing some major avenues for progress in this regard." Michael Ewert, Vice President Global Sales Original Equipment at Michelin commented: "We are currently working with car manufacturers on the development of Algorithms. Since RFID technology ensures this exact tyre identification, it is conceivable in the future that drivers will see a tyre status display next to their fuel gauge".
Thus, condition monitoring will become increasingly important, especially for vehicles that are becoming more and more automated. Michelin has been fitting some of its car tyres with chips since mid-2019, the company revealed in its car tyre RFID statement.
The advantage of RFID technology is that it is a relatively cost-effective way of identifying tyres throughout their lifecycle and very robust compared to many other smart sensors. "RFID in tyres make many new business models possible and can also further increase safety when driving," says Ewert.
For example, RFID technology will enable Advanced Driver Assistance Systems (ADAS) such as ESP to adapt to specific tyre characteristics because of the reliable pairing of tyre and vehicle. More specifically, a winter tyre has different braking characteristics than a summer tyre. These characteristics can therefore have an influence on the driver assistance system, which attempts to prevent the vehicle from skidding at the limits of traction – both when understeering or oversteering – by braking individual wheels in a targeted manner.
"This fine-tuning of driving safety systems, which is possible with the help of precise tyre identification through RFID technology, will also be important for automated driving. We are convinced it represents a significant step forward in the tyre industry", Michael Ewert notes.
And what's more, there is are further real-world applications in the tyre distribution chain. Specifically, RFID has advantages for dealers and workshops since RFID technology in the workshop can help prevent incorrect fitting when changing tyres because each chip has an individual ID. This tyre identification through the RFID chip ensures the correct tyre dimension is transmitted to the on-board computer system. So, when the RFID chip is scanned, the tyre data is displayed directly on the screen of the RFID reader and does not have to be checked by hand and eye – saving the mechanic time. Finally, stock levels can be checked more efficiently by reading the tyre data quickly, and the need for new tyres can hence be adjusted more easily.
Car manufacturers benefit from the easier readability of tyre data. With the help of a RFID chip, errors in the production process – such as an incorrect tyre/wheel/vehicle combination – can be tracked and production figures and stock levels compared in real time. The first company to order Michelin car tyres with RFID chips as original equipment is a European vehicle manufacturer.
What is now taking hold in the car business has long been reality in the truck industry. Especially in the logistics industry, RFID technology has established itself as tool for checking the flow of goods and for effective tyre management. Michelin already equips up to 90 per cent of all truck tyres sold with identification technology and, in line with the car segment, all truck tyres will be fitted with RFID chips by 2023.
For example, from a logistics perspective, RFID technology can also be applied to carry out tyre load checks much more quickly from Michelin's logistics warehouses, the dealers' warehouses or those of the vehicle manufacturers. So, frequently requested single-variety delivery can be ensured. Potential complaints and transparent inventory management may also be tracked better via simplified tracking by means of RFID. Overall Michelin's thinking and its demonstrated commitment to RFID reflect the manufacturer's belief that RFID will considerably improve whole-life (including end of life traceability) of tyres. Just as RFID technology ensures traceability throughout the tyre lifecycle, it can also help improve end of life treatment by ensuring components' traceability. In the future, this would allow proof of recycling to stakeholders, increasing the recycling rate or improving the efficiency of the energy recovery process.
From the Homburg, Germany factory to the world
The RFID technology used in Michelin tyres is made in Germany: The annual capacity for encasing RFID chips with a rubber layer at the Homburg site amounts to up to 15 million chips. RFID chips are then installed in the new tyres directly in the factory or delivered to Michelin factories in Europe, China, Thailand and Brazil. The demand for tyres equipped with RFID is said to be "continuously growing". Hence, Michelin had already had another RFID production system in place at its Saarland plant, since mid-November 2020.