SRI tests TPMS solution for Level 4 automated vehicles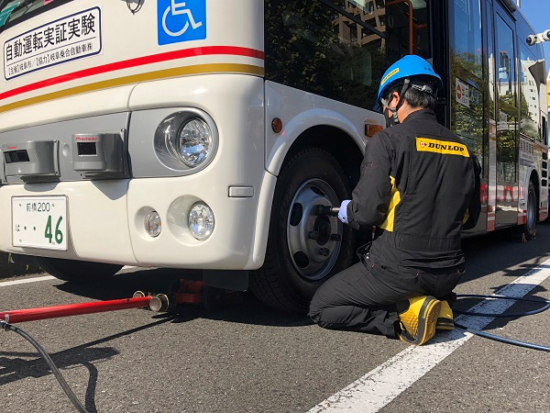 Sumitomo Rubber Industries has been working together with Japan's Gunma University since last year to develop a system that remotely monitors tyre pressure in driverless vehicles. The tyre maker reports that, having created a system that works with Level 4 autonomous vehicles, it conducted a successful proof-of-concept test of this new system on public roads on 12 November.
Testing involved simulating a flat tyre on an autonomous vehicle that was driving through the city. A tyre pressure monitoring system (TPMS) fitted inside the tyre detected this and transmitted tyre pressure data to a remote control centre, which automatically alerted a nearby tyre service provider. The test concluded once the service provider replaced the tyre in question.
This joint work is being performed with Gumna University's Center for Research on Adoption of NextGen Transportation Systems (CRANTS). Established in 2016 as a centre of innovation that would bring together industry, academia, government and business, CRANTS aims to cultivate talent in the field of future mobility while promoting research and development on related systems and their social implementation.