3 tyres rated 'exemplary' in Auto Bild's winter tyre test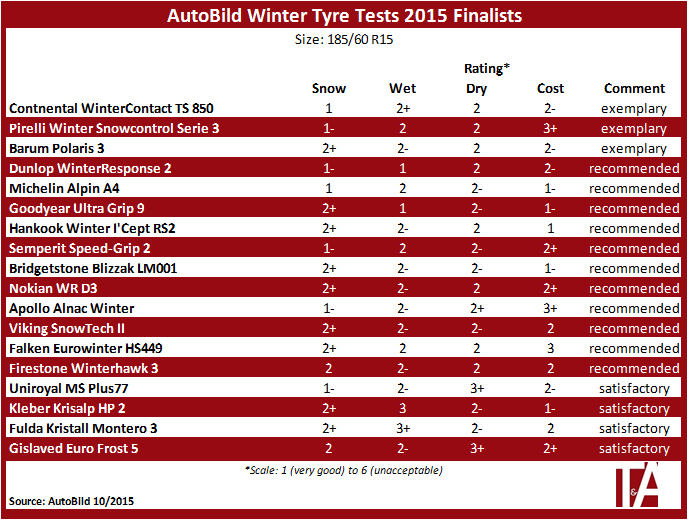 Having reduced a field of 51 to 19, Auto Bild announced that three of the winter tyres tested had made it all the way to the top of the German magazine's rankings, picking up "exemplary" ratings. Continental's WinterContact TS 850, Pirelli's Winter Snowcontrol Serie 3, and the Barum Polaris 3 were the best performers, according to Auto Bild's testers, who ranked the tyres based on their performance on snowy, wet and dry roads and their cost. The tests were performed on a VW Polo, with the tyres sized 185/60R15 T.
Auto Bild also gave its 'recommended' rating to 11 more finalists. In order, these were:
Dunlop Winter Response 2;
Michelin Alpin A4;
Goodyear Ultra Grip 9;
Hankook Winter i * cept RS 2 (which was also made the 'Eco-Champion 2015');
Semperit Speed-Grip 2;
Bridgestone Blizzak LM001;
Nokian WR DR3;
Apollo Alnac Winter;
Viking Snow Tech II;
Falken Euro Winter HS449;
and Firestone Winterhawk 3.
The final four tyres all received a 'satisfactory' ranking. They were, in order:
Uniroyal MS plus 77;
Kleber Krisalp HP2;
Fulda Kristall Montero 3;
and Gislaved Euro Frost 5.
Attending, which they indeed in the final settlement "only" places occupy 15 to 18, but still leave more than 30 other candidates behind.
Auto Bild decided to remove the 19th finalist, the Pirelli Cinturato All Season, in the winter tyre tests from its final rankings. The tyre, as readers will know, is designated an all-season tyre, and is therefore inevitably weaker on snow than its full winter counterparts, Auto Bild said.