Michelin Pilot Sport EV 'consistent' for Formula E in Malaysian humidity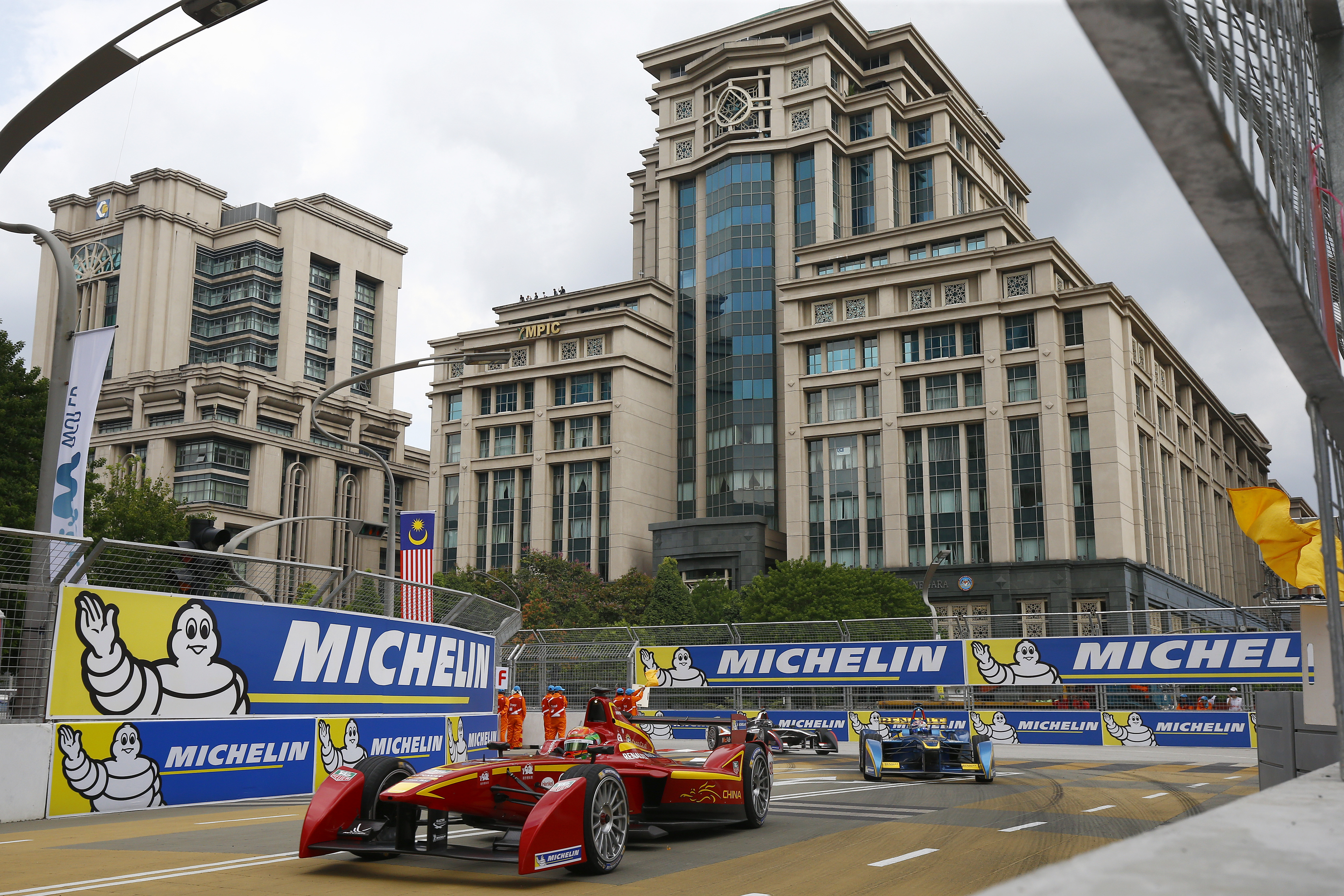 Michelin's Pilot Sport EV has helped Formula E to overcome difficult weather conditions in Putrajaya, Malaysia, despite temperatures in excess of 30°C, a track temperature of almost 50°C and humidity levels of between 60 and 90 per cent.
Round 2 of the 2015/2016 Formula E ePrix featured the same format as 2014, with a 12-turn, 2.5km track and the start brought forward by two hours to 2:04pm local time in order to minimise the threat of wet weather. Torrential rain swept over the city an hour after the chequered flag was shown. The hot, damp conditions made the day hard not only for the drivers, but also for the battery of their all-electric single-seater racing cars.
While all the teams are using the same chassis as least season, the latest technical regulations of the FIA (Fédération Internationale de l'Automobile) now allow them to run their own motor, transmission and electronic management system. The rear suspension may also be modified, but the rest of the specification – including the battery – is identical to last season. Meanwhile, the FIA has authorised a power increase from 150kW to 170kW for the races, and from 170kW to 200kW in qualifying, and that has resulted in an improvement of around two seconds per lap at circuits like Putrajaya.
For the tyres, the FIA requested that Michelin's technological package be frozen for the season. "Last season, our tyre delivered more than the teams had been expecting," states Serge Grisin, manager of Michelin's Formula E programme. "Keeping the same specification for Season Two consequently enabled them to focus on the development of their new cars without having to take on-board a new parameter as far as the tyre was concerned. That said, we will continue to collect data that we will be able to pass on to Michelin's research and development department. The lessons we learn in motorsport are used to develop upcoming road tyres, a recent example being the new Michelin Pilot Sport 4 which features similar characteristics to our Formula E tyre.
"In Putrajaya, we faced a challenging combination of difficult weather, a dirty track and asphalt which offered little grip in places. Thanks to the information we brought back from Malaysia last year, we knew that the Michelin Pilot Sport EV would be a match for this cocktail. Thanks to its consistency, competitive performance, durability and versatility, tyres are one of the factors that pose the fewest questions."
Michelin's Formula E technology
The 2015/16 Michelin Pilot Sport EV is supplied to Formula E teams in sizes 24/64-18 (front) and 27/68-18 (rear). (The measurement system employed by Michelin Motorsport is: tread width in centimetres / exterior diameter in centimetres / rim diameter in inches).
These sizes are the equivalent of the road tyre sizes: 255/40R18 (front) and 305/30R18 (rear) (overall tyre width in millimetres / aspect ratio (the sidewall-height to tyre-width ratio) / rim diameter in inches). The letter 'R' signifies 'radial'.
With its patterned tread and 18-inch interior diameter, the Pilot Sport EV resembles a road tyre, though Michelin explains that it includes numerous technologies currently being tested with a view to their being carried over to Michelin's catalogue tyres over the years ahead.
Formula E calendar
The next round of the 2015/2016 FIA Formula E Championship will take teams to the Uruguayan coastal resort of Punta Del Este on 19 December. Like the inaugural season, the 2015/2016 calendar features 11 rounds at 10 venues, with two races to conclude the campaign in London.
The season started in China at the later date of 24 October, 2015, and reaches its conclusion on 3 July, 2016 – one week later than in 2015. Monaco has been replaced by a race in Paris, and a new venue that the organisers have yet to specify will be announced at a later date. Miami doesn't feature at this moment in time.
October 24, 2015: Beijing (China)
November 7, 2015: Putrajaya (Malaysia)
December 19, 2015: Punta Del Este (Uruguay)
February 6, 2016: Buenos Aires (Argentina)
March 12, 2016: TBC
April 2, 2016: Long Beach (USA)
April 23, 2016: Paris (France)
May 21, 2016: Berlin (Germany)
June 4, 2016: Moscow (Russia)
July 2-3: London (United Kingdom)