Tag: Hydrogen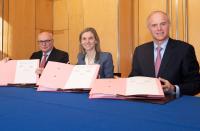 In 2017, Michelin stated that hydrogen "ticks all the boxes" for its vision of sustainable mobility. The company's activities in this area are now moving forward with the signing of a Memorandum of Understanding to create a new joint venture that will bring together all of Michelin's fuel cell related activities, including its subsidiary Symbio, with those of automotive parts manufacturer Faurecia.
Hydrogen Mobility Europe (H2ME) – the ambitious multi-country, multi-partner project to demonstrate that hydrogen can support Europe's future transport demands – today announced that the first 100 fuel cell electric vehicles (FCEVs) deployed by H2ME are now on the road in Germany, France and the UK.
The Office for Low Emission Vehicles (OLEV) has announced an £11 million investment towards the development of a hydrogen fuel infrastructure in the UK. The investment will see the UK's hydrogen infrastructure grow to up to 15 refuelling stations nationwide, and is part of government's drive to make the UK a global leader in ultra-low emission vehicles. Joint-funded by government and industry, the project will allocate funds to: install and run up to seven new customer-facing hydrogen refuelling stations (£7 million); upgrade existing hydrogen refuelling stations (£2 million); and to acquire around 40 hydrogen-fuelled vehicles for the public sector (£2 million). The announcement was made by Minister of State for Business and Enterprise, Matthew Hancock MP, while visiting Honda, Nissan and Toyota in Japan.