Michelin setting up Global Works Council with IndustriAll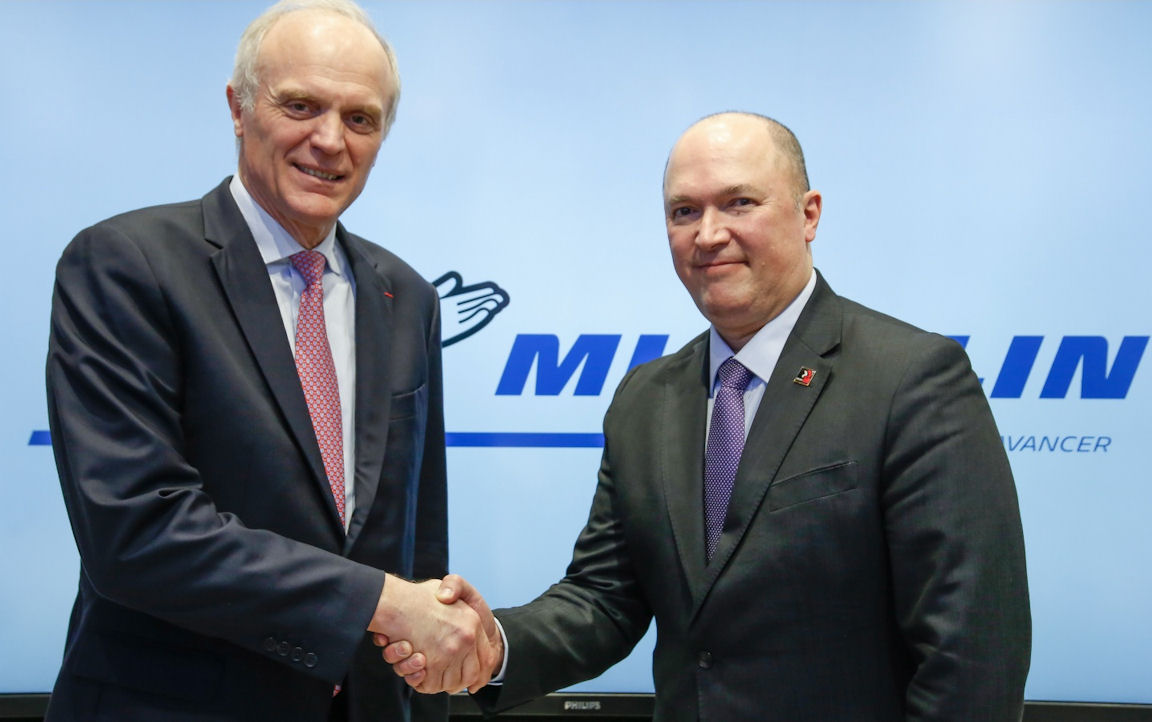 On 27 January, Michelin signed an agreement with global union federation IndustriALL to set up the Michelin Global Works Council. The agreement was finalised by Florent Menegaux, chief executive officer of the Michelin Group, and Valter Sanches, general secretary of IndustriALL Global Union. Its signing follows nearly two years of discussion and negotiation.
IndustriALL Global Union represents over 50 million workers in 140 countries in the mining, energy and manufacturing sectors. The signing of the agreement, therefore, constitutes a key milestone for the Michelin Group in the process begun several years ago to foster open, constructive and responsible dialogue at the international level. The new employee representative organisation is notably inspired by the work undertaken, the methods used and the positive results achieved by the Michelin European Works Council.
The Global Works Council, which will represent Michelin's workers, was created to fulfil the following aims:
• To create a new platform for social dialogue that represents employees in the countries in which the Michelin Group operates.
• To better prepare for the economic, social and environmental changes affecting Michelin Group throughout the world.
• To improve the social support needed in all countries in light of the Group's economic transformation.
The Council will thus have the following missions:
• To share the Group's results and strategic goals transparently with workers in all countries in which Michelin operates.
• To help co-develop key policies to address the social implications of the Group's transformation, including competitiveness, social protection, diversity (especially disability and inclusion) and sustainable development.
"The Michelin Global Works Council will enable us to take social dialogue and change support to the next level, while also improving the rights and working conditions of employees worldwide," says Michelin's Florent Menegaux.
The Michelin Global Works Council will be chaired by Remi de Verdilhac, chief administrative officer of the Michelin Group's headquarters. The Council's 50 members will be designated in February to give them ample time to prepare for the new organisation's first meeting, scheduled to take place in Michelin's home town of Clermont-Ferrand, France on April 1 2020.
IndustriAll notes that with this agreement, Michelin "recognises the importance of the fundamental conventions of the ILO, the UN Guiding Principles on Business and Human Rights and the OECD Guidelines for Multinational Enterprises." The Michelin Group, it adds, "pledges to support and respect human rights and to develop a culture of vigilance on this matter." In particular, Michelin commits to comply with the principles of freedom of association and employee representation, and to protect the rights of employees and union representatives.
"Global works councils are a strategic way to include multinational companies in our action plan. The creation of a global works council by Michelin, the industry leader, is another step forward in the development of the Group's employee relations process," states IndustriALL's Valter Sanches.