SRI evolving Advanced 4D Nano Design technology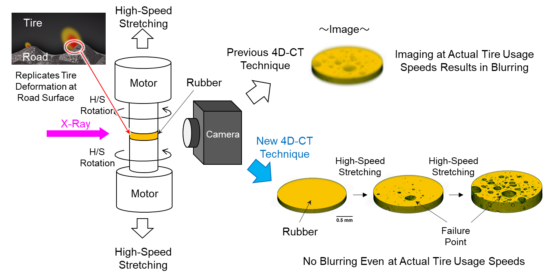 Sumitomo Rubber Industries (SRI) has presented the "next evolution" of its proprietary Advanced 4D Nano Design materials development technology. The manufacturer of the Falken and (outside Europe) Dunlop tyre brands also reports it is utilising supercomputer technology to accelerate its work on materials simulation.
Together with Associate Professor Wataru Yashiro from Tohoku University's Institute of Multidisciplinary Research for Advanced Materials (IMRAM), SRI has achieved an approximately thousand-fold increase in the speed of 4D-CT (4-Dimensional Computed Tomography) imaging, a technique originally developed as part of the Advanced 4D Nano Design technology unveiled in 2015. By drawing upon SRI's extensive knowledge of rubber and Associate Professor Yashiro's CT imaging technology – said to be the world's fastest – the partners achieved the breakthrough of observing rubber failure as it occurs during actual tyre usage at varying speeds.
Speeding up 3D imaging
Since introducing Advanced 4D Nano Design more than five years ago, SRI has utilised the core technology available at the Spring-8 synchrotron radiation research facility in Sayo, Japan to further its research into rubber with superior wear characteristics. This has been a time-consuming process, with each single 3D image taking several seconds to capture using the existing 4D-CT technique. Increasing the speed of imaging was vital in order to enhance precision.
SRI and Tohoku University thus began joint research into developing a base technology for realising high-speed 4D-CT imaging. "As a result of this research, we have succeeded in increasing the speed of imaging by approximately a thousand-fold, meaning that a 3D image can now be captured in around 1/100 of a second," shares SRI. "This advancement allows for continuous, high-speed observation of rubber failure phenomena in three dimensions and under conditions that better approximate the state of tyre rubber during actual wear."
SRI plans to utilise this technology not only to accelerate development of new tyre materials that provide superior wear resistance and longer service life while being more environmentally friendly, but also to develop new materials in order to further advance its Smart Tyre Concept for tyres and peripheral services.
Supercomputing & the magic triangle
Advanced 4D Nano Design's evolution will also be aided by the new Fugaku Supercomputer, which recently entered service at the Riken Center for Computational Science in Kobe, Japan. SRI says it has been "granted one of the first corporate slots" to use the supercomputer following its opening to academic and industrial researchers yesterday.
SRI will utilise the Fugaku Supercomputer to further its work on the 'magic triangle' of tyre performance, the simultaneous improvement of grip, fuel efficiency and wear resistance. This has long been an aim of Advanced 4D Nano Design, and with the powerful Fugaku Supercomputer now at its disposal, the tyre maker intends to further advance the technology "in order to better respond to the needs of CASE, MaaS and other new automotive innovations."
Progress for Performance Sustaining Technology
The Smart Tyre Concept is Sumitomo Rubber Group's key development concept for technical innovation, and it has recently been working to develop 'Performance Sustaining Technology'. This is a new technology which curbs the decline in tyre performance that occurs over time due to wear and tear, thereby allowing tyres to maintain like-new performance for longer.
A major challenge involved in developing this technology is the fact it requires a precise understanding of the chemical changes occurring within rubber at the molecular level during tyre usage so that these chemical changes can then be controlled. In January, members of the SRI team published a research paper describing a newly-established technique for simulating the molecular behaviour of rubber materials while accounting for their molecular structures in greater detail. Backed by the awesome power of the Fugaku Supercomputer, SRI is now working to further advance rubber materials simulation technology in order to accurately simulate not only molecular behaviour, but also actual chemical changes.