SRI testing remote tyre monitoring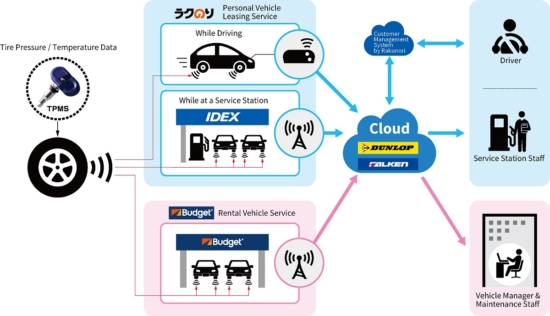 Sumitomo Rubber Industries (SRI), manufacturer of the Falken tyre brand, recently began proof-of-concept testing for a new kind of tyre pressure management solutions service that remotely monitors tyre pressure and temperature. Through this testing project, SRI will evaluate the service's efficacy in supporting safer driving, specifically its effectiveness in reducing maintenance time and workload and preventing operator error. SRI says the project contributes towards its "ultimate aim" of establishing a business model that "helps to enhance the safety and economy of driving."
The service enables the data collected by each vehicle's TPMS system to be directly viewed online. Remote monitoring of tyre pressure and temperature offers three primary advantages – reduced tyre maintenance workload, improved fuel economy via appropriate tyre pressure levels, and greater safety.
SRI is undertaking these tests in Japan as part of a joint project with service station operator Shin-Idemitsu and its subsidiary: Idex Auto Japan, as well as SRI subsidiary Dunlop Tyre Kyusyu. The partners have initially introduced their new remote tyre pressure and temperature service to 30 vehicles operated by Shin-Idemitsu as part of its 'Rakunori' vehicle leasing business and 500 vehicles operated by Idex Auto Japan as part of its 'Budget Rent a Car' vehicle rental business.
SRI's efforts in this area are being made as part of the Sumitomo Rubber Group's response to the CASE (Connected/Autonomous/Shared/Electric) megatrend and the opportunities it offers, such as the increased uptake of MaaS (Mobility as a Service) operations. "By allowing for remote monitoring of tyre pressure, we believe that our new system, currently undergoing proof-of-concept testing, will provide just such a solutions service for greater safety and peace of mind for the upcoming era of autonomous driving," comments SRI.