Voith to handle 2.5 million tyre/wheel assemblies a year after expansion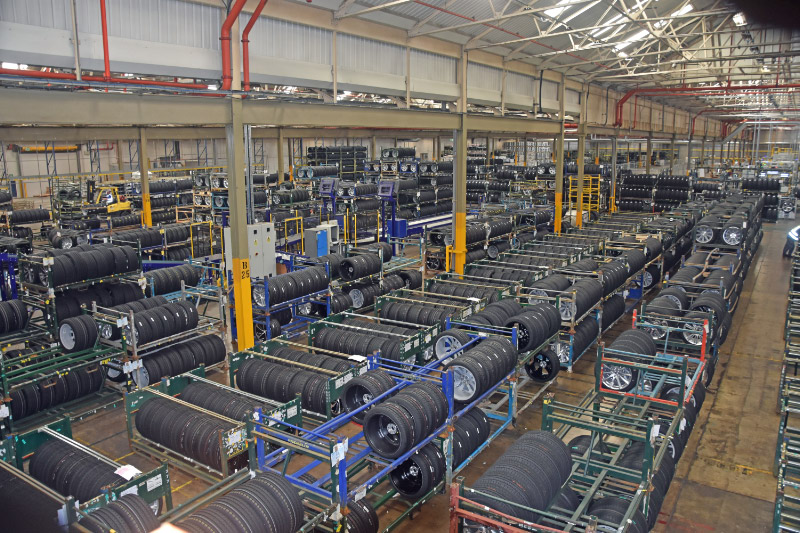 Once Voith's new tyre and wheel assembly line is up and running in September, it will handle up to 1,000 different derivatives of wheels and tyres. This new line alone will then have the capacity to produce almost a million assemblies a year on a two-shift basis with the ability to complete 1.5 million with three shifts." Transfer of the line from the existing facility on Torrington Avenue will begin in July. When combined, the two lines will have the capacity to produce around 2.5 million assemblies per year based on three shifts.
Work on the new facility, which will employ more than 80 people, started in May last year. The installation of the new 90-metre long assembly line, which has 16 work stations, began in January this year, and several weeks of extensive commissioning to handle the current 700 wheel and tyre derivatives has now been completed.
Assembly of wheels and tyres for Jaguar Land Rover has started and will gradually increase over the next few weeks. Last year Voith Industrial Services, that has its UK headquarters in Warwick, won the top quality award from Jaguar Land Rover for its wheel and tyre operation. The JLRQ award was formally presented following assessments over a 12-month period on a range of criteria including its quality, delivery, technical ability, and planned preventative maintenance programmes.
"The increasing demand for our expertise in wheel and tyre assembly is just one area of our business that has made us a leading supplier of a wide range of outsourced and technical services to the UK automotive and transport industries," said Phillip Spencer, Voith Industrial Services' sales and business development director.