SRI team commended for '4D Nano' research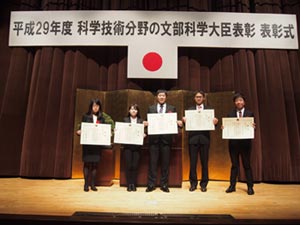 Researchers from Sumitomo Rubber Industries (SRI) and two Japanese universities have received an award from Japan's Ministry of Education, Culture, Sports, Science and Technology. The Science and Technology (Development Category) award was bestowed upon the five researchers during the 2017 Commendations for Science and Technology and was given for their contribution towards tyre development through the coordinated utilisation of advanced technologies. Research conducted using the Riken SPring-8 centre, the J-PARC facility and the K computer led to the development of SRI's proprietary 4D Nano Design technology in 2012 and Advanced 4D Nano Design technology in 2015.
"Thanks to our cutting-edge technologies and collaboration with world-class research institutions, we have succeeded in developing truly advanced tyres, achieving balanced high performance in terms of the three inherently contradictory key tyre performance traits: Fuel efficiency, grip and wear resistance," wrote SRI in a statement. "We consider this year's prize to be further affirmation of SRI's innovative efforts to develop new materials through active collaboration between industry, academia and government, as well as our outstanding overall technical capabilities. Encouraged by this affirmation, we at SRI will continue to utilise these advanced technologies in the development of safe, reliable and environmentally friendly high-performance tyres."
The recipients named in the Commendation for Science and Technology are Dr Hiroyuki Kishimoto, Dr Tomomi Masui and Dr Fusae Kaneko from the Chemical Analysis Center at SRI's R&D headquarters, as well Dr Yuya Shinohara from Tokyo University and Dr Yuichi Masubuchi from Nagoya University.
The Riken SPring-8 centre is located in Japan's Hyōgo Prefecture and is home to the world's most powerful synchrotron radiation facility. J-PARC, in Ibaraki, is a proton accelerator and experimental facility that is used for cutting-edge research. K is also located in Hyōgo Prefecture and is one of the world's most powerful supercomputers in terms of overall processing capabilities.
Earlier this year, SRI's Advanced 4D Nano Design technology took the Tire Technology of the Year prize at the Tire Technology Awards in Hannover, Germany. The technology is deployed in certain Falken brand tyres sold in the UK and Europe, such as the flagship Azenis FK510.     sg