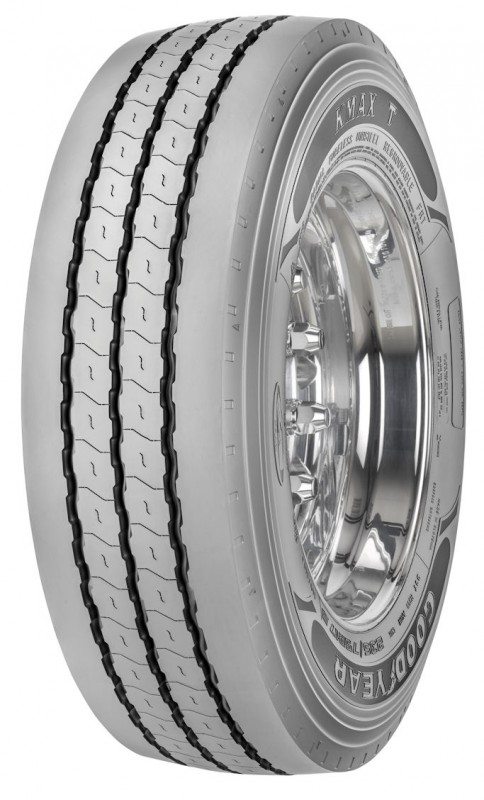 Goodyear Kmax T is now available in five 17.5-inch sizes
The Goodyear Kmax tyre range has been extended by the addition of dimensions for low platform trailers. The newest Kmax T tyres are 17.5-inch fitments and produced in five sizes for this rim diameter. The 3PMSF marked tyres will be available from May 2017.
"The transportation of heavy goods is a very specialist area where reliability is essential," comments Benjamin Willot, director marketing Commercial Tires at Goodyear Europe, Middle East and Africa. "The new Kmax T low platform trailer tyres are designed specifically for this type of haulage; offering high levels of durability and robustness, high mileage, low rolling resistance and all season performance thanks to the 3PMSF classification." Willot adds that the tyres' 3PMSF certification is important for ensuring compliance with winter tyre regulations in some European countries.
Goodyear states that the tread profile on the Kmax T tread is designed to provide optimal pressure distribution in the footprint in order to ensure high mileage, even wear and low rolling resistance. High contact stresses typical with low platform trailers are distributed the over a wide surface by the four-rib tread design. Grip in wet and snowy conditions is provided by longitudinal sipes in the tread blocks and is further enhanced by the grooves, which are designed along zig-zag lines to provide multiple gripping edges to the circumferential ribs as they go through the footprint.
For greater casing durability, the construction of the bead is engineered for the demanding applications of low platform trailers, while the tread compound used is formulated to withstand the high contact stresses that typical with low platform trailers. These two characteristics, comments Goodyear, lend themselves to high mileage, robustness and good retreadability.
The full KMAX T trailer range includes six further tyres. Existing dimensions include one 19.5-inch rim size, 435/50R19.5 and five for 22.5-inch rims, 385/55R22.5, 385/65R22.5 (Load index 164), 425/65R22.5 and 445/65R22.5.                    
sg
Category: Product News