Bridgestone to supply Lamborghini Huracán STO supercar tyres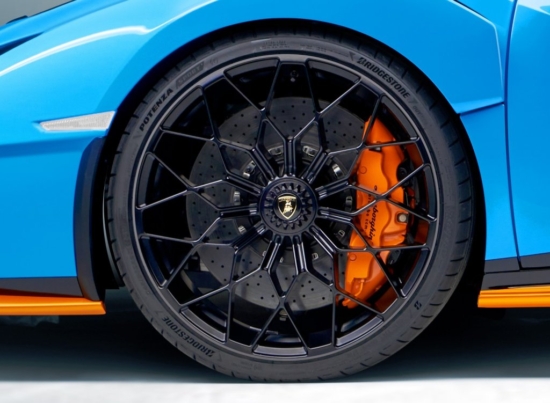 The Lamborghini Huracán STO will roll on custom-developed Bridgestone Potenza tyres. The ultra-high performance tyre will help to maximise the traction, handling, control, and extreme overall performance of the new supersports car. The Huracán STO will be launched in 2021.
The custom Bridgestone Potenza are the result of a new collaboration between Lamborghini and the world's largest tyre-maker. The tyre's asymmetric pattern and cavity design combined with Bridgestone's latest technologies enhance steering response and cornering stability. Its internal crown structure distributes footprint pressure evenly when cornering. These features, combined with a newly developed tread compound that enhances grip, help to bring the Huracán STO's track-level performance to road users, the tyre manufacturer states.
Bridgestone's virtual development technology assisted the tyre-maker's collaboration with Lamborghini. It allowed tyre development to continue despite limitations caused by the COVID-19 pandemic. It also "proved crucial" in achieving the required performance within the given timeframe, Bridgestone said. It tested several combinations in its virtual environment, integrating tyre behaviour in the vehicle's system to find the best match for the Lamborghini Huracán STO in a virtual driving simulator. This resulted in a process that went from start to finish in a more efficient way and with a reduced environmental impact, Bridgestone added.
The Lamborghini Huracán STO will begin production beginning of 2021. As well as the road-focused, custom-developed Potenza fitment, Bridgestone will also be providing a track-oriented, road-homologated version of the tyre that applies racing technologies to maximise the vehicle's track performance, especially in dry conditions.
Steven De Bock, VP consumer replacement and OE at Bridgestone EMIA, said: "It's been a pleasure for our team to work so closely with Lamborghini for the first time, and on such an exciting project. The Huracán STO is an incredible piece of engineering that deserves a custom tyre that can fulfil its full potential. I can proudly say that Bridgestone has delivered such a high-performance tyre. It has been fantastic for the team to have worked on a project that is at the forefront of technology in so many ways."