Tag: hydrogen fuel cell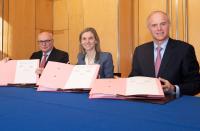 In 2017, Michelin stated that hydrogen "ticks all the boxes" for its vision of sustainable mobility. The company's activities in this area are now moving forward with the signing of a Memorandum of Understanding to create a new joint venture that will bring together all of Michelin's fuel cell related activities, including its subsidiary Symbio, with those of automotive parts manufacturer Faurecia.
Hydrogen cars could rewrite the standard vehicle depreciation curve, members of the Vehicle Remarketing Association heard at their monthly meeting last week.
A priority at the COP 23 climate change conference now being held in Germany is to emphasise the importance of reducing greenhouse gas emissions. Transport, which is responsible for 23 per cent of worldwide CO2 emissions, is at the forefront of concerns. Electromobility is generously served up as an elixir on occasions such as this, however battery driven electric cars remain a niche market. An alternate form of electric propulsion, one that many in the UK first saw when James May tested the Honda FCX Clarity on Top Gear back in 2008, may hold the key to the door of high volume uptake. This is hydrogen fuel cell, a technology that tyre maker Michelin actively supports.