Tag: Bridgestone Ecopia

More than 10 million original equipment and replacement market Ecopia tyres have been sold in the Asia Pacific region since the brand was first launched there in 2009, reports Bridgestone Asia Pacific Pte. Ltd. As of 2014, Ecopia tyres accounted for more than 20 per cent of Bridgestone's replacement market sales in Asia Pacific.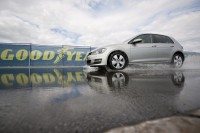 The latest AA passenger car tyre has arrived, with eight sizes of Goodyear's EfficientGrip Performance meeting the wet grip and rolling resistance criteria. The brand is now providing one of the largest number of tyre sizes sporting AA EU tyre label grades on the market. The new sizes complement an already extensive BA rated offering from Goodyear on the market today, with 53 EfficientGrip Performance sizes rated BA.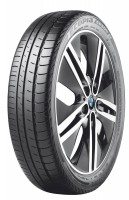 As the first brand to achieve passenger car tyre double-A grading on both the European and the Japanese tyre labels with the EP001S, Bridgestone's Ecopia product range must be considered one of the leading eco tyre ranges in the current, post-labelling era. More noticeably, in terms of the shape of the product at least, Bridgestone's EP500 "ologic" large and narrow tyre is a signifier that more radical product design decisions are making it to production. While the terminology for tyres designed to be eco-friendly is not exactly fixed, with definitions subject to subtle variations depending on the manufacturer, the presence of a rolling resistance A or B-grade on both major tyre labels to use this measurement seems a fair way to define an eco tyre. Yet for premium brands, the label grades can only be one part of the picture, as the end user is likely to be more discerning about their product choice, having paid generally a higher price for the product.