Eco tyre technologies leading to improving premium products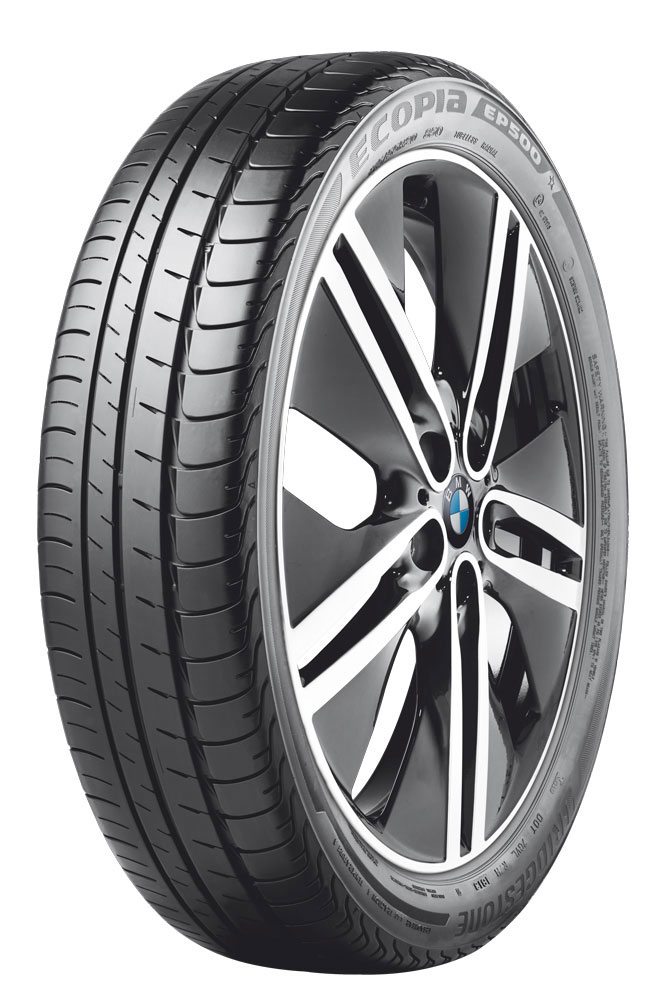 Bridgestone achieving ecological development goals, but are the benefits making an impact on end users
As the first brand to achieve passenger car tyre double-A grading on both the European and the Japanese tyre labels with the EP001S, Bridgestone's Ecopia product range must be considered one of the leading eco tyre ranges in the current, post-labelling era. More noticeably, in terms of the shape of the product at least, Bridgestone's EP500 "ologic" large and narrow tyre is a signifier that more radical product design decisions are making it to production. While the terminology for tyres designed to be eco-friendly is not exactly fixed, with definitions subject to subtle variations depending on the manufacturer, the presence of a rolling resistance A or B-grade on both major tyre labels to use this measurement seems a fair way to define an eco tyre. Yet for premium brands, the label grades can only be one part of the picture, as the end user is likely to be more discerning about their product choice, having paid generally a higher price for the product.
The Ecopia range, much like other premium brands' more rolling resistance-conscious products, utilises compound and tread technology to achieve this primary goal, while ensuring that the balance of performance characteristics remains within the range expected of a premium product. Gary Powell, Bridgestone technical manager – North Region, told Tyres & Accessories: "All our Ecopia tyres are designed to have optimal results in labelling performances together with balanced characteristics for every day driving… The Ecopia range utilises latest generation NanoPro-Tech tread compound and many other technology advances to achieve the perfect balance between rolling resistance and wet grip."
Bridgestone Europe adds that its ologic tyre concept, present in the EP500, is also intended to improve aerodynamics and reduce rolling resistance as part of the manufacturer's wider sustainability project. The tyre has a large diameter and narrow tread pattern. The large diameter produces curvature and tension effects that reduce deformation and reduces rolling resistance by almost a third. Meanwhile the aerodynamic properties of the narrower tyre reduce aero resistance by 3.7 per cent, which Bridgestone says is the equivalent of a 4.5 per cent reduction in rolling resistance.
The ologic project is also tied into the desire of OEMs to reduce their carbon footprint, a concern Bridgestone says "has picked up momentum in the past two years". The EP500 'ologic' was developed exclusively for the BMW i3, a product that led to a 2014 BMW supplier award in the 'Efficient Dynamics' category, while the manufacturer has, in common with other premium brands, collaborated with other OEMs producing electric vehicles and hybrids. This development is, Bridgestone adds, "aligned with our long-term vision to achieve a sustainable society in 2050", while noting that "developing these tyres is never made at the expense of safety."
Support from consumers, dealers
When talking about the tyre label designating green performance, it's always worth considering how much stock the end user – and even the dealer – is putting into the grades; and as we noted in this feature last year, the signs haven't always been encouraging. Powell acknowledges this problem: "Current market research shows that few retailers are passing on the information contained in the tyre label to the end user. However, the retailers do have good knowledge of the Regulation. In the main the larger retailers show greater compliance to the regulation, with small independent businesses trailing behind. Evidence also suggests that consumer impact on labelling is still below levels which can effectively influence market behaviour. Therefore, industry events and media articles, serve to engage and improve awareness of tyre labelling for everyone, especially for the end user."
Powell adds that Bridgestone considers it a "duty" to support retailers in communicating eco tyres' benefits. The company provides labelling POS material and a digital product sheet, while training to explain eco-technologies is available, while its consumer-facing website also engages in this communication. "It is also interesting to note," Powell continues, "that in a survey carried out by Bridgestone last year in the major EU markets, 25 per cent of consumers surveyed said that fuel savings and mileage were motivating factors when buying tyres. However, these criteria came in sixth and seventh place, behind safety (43 per cent of consumers said it was their number one priority when buying tyres) and performance-related criteria (grip, balance, and comfort)."
It seems that manufacturers are continuing to produce greener tyres, but converting consumers eco sympathetic sentiment into sales – or even a requirement – continues to require greater commitment down the supply chain.