Tag: Gary Powell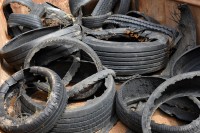 Simple checks could prevent almost three-quarters of motorway incidents related to tyre failure. This is one of the conclusions of an 18-month study conducted by Bridgestone and Highways England. More than 30 people were killed or seriously injured in motorway accidents in 2016 due to illegal or faulty tyres.
The introduction of Euro VI vehicles has naturally led to evolution in the tyre sector. As one of the premium brands responsible for original equipment supply to large HGV manufacturers, such as Volvo, Mercedes, Man, Scania, and Renault, Bridgestone's newest products have been developed to take Euro VI into account, made to withstand higher front axle loads of the more fuel efficient vehicles. "Our new highway, regional, and on/off specifications have been developed with a higher load index to support these new vehicle designs," Bridgestone UK technical / field engineering manager - north region, Gary Powell explains.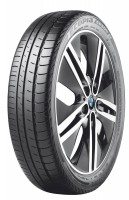 As the first brand to achieve passenger car tyre double-A grading on both the European and the Japanese tyre labels with the EP001S, Bridgestone's Ecopia product range must be considered one of the leading eco tyre ranges in the current, post-labelling era. More noticeably, in terms of the shape of the product at least, Bridgestone's EP500 "ologic" large and narrow tyre is a signifier that more radical product design decisions are making it to production. While the terminology for tyres designed to be eco-friendly is not exactly fixed, with definitions subject to subtle variations depending on the manufacturer, the presence of a rolling resistance A or B-grade on both major tyre labels to use this measurement seems a fair way to define an eco tyre. Yet for premium brands, the label grades can only be one part of the picture, as the end user is likely to be more discerning about their product choice, having paid generally a higher price for the product.