Bridgestone tyres for 'world's fastest' solar sports car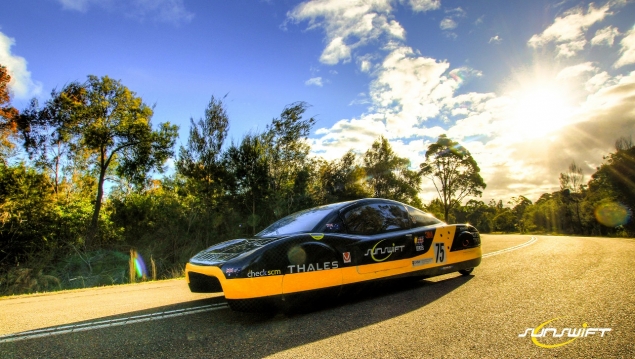 It's a little under three weeks until the start of this year's Bridgestone World Solar Challenge, and the tyre maker sponsor has shared details of one entrant equipped with its products – a vehicle it says is set to become both the first road legal solar sports car in Australia and the world's fastest electric vehicle when measured over a 500 kilometre stretch.
The car is the Sunswift eVe. It was built by the solar racing team from the University of New South Wales, and its developers have fitted it out with the same tyres worn by the first electric BMW to come to market.
"We are very pleased to be supplying the Sunswift team with our custom-designed and hand-produced Bridgestone Ecopia with ologic technology tyres," said Andrew Moffatt, Bridgestone Australia and New Zealand's managing director. "The tyres feature the same technology incorporated in the tyres Bridgestone currently supplies to BMW for their i3 electric vehicle as part of an exclusive supply arrangement – so they're certainly serious tyres for a serious challenge.
"We wish eVe all the best for this year's Bridgestone World Solar Challenge and are sure they will yet again prove just how far solar technology has come," added Moffatt.
In addition to acting as title sponsor for this year's event, Bridgestone is supplying tyres to 19 of the teams participating in the 2015 Bridgestone World Solar Challenge.
Ecopia with ologic technology tyres are designed to reduce rolling resistance and improve aerodynamics through two key features – a large diameter and a narrow tread pattern. Sunswift eVe project manager Hayden Smith said the team had recently pushed the car to its limits as part of testing in the lead up to event's start on 18 October.
"The tyres held up really well as part of the testing and we certainly saw some improvements in terms of handling and cornering," said Smith. "All of the teams participating in the Bridgestone World Solar Challenge are looking for a competitive edge, and tyres are a great way to achieve efficiencies because of the benefits you can gain through rolling resistance.
"We're really pleased to have Bridgestone on board as one of our major sponsors and we're looking forward to hitting the road for this year's event," the project manager added.
Bridgestone Australia's support of the World Solar Challenge event is strongly aligned with the company's Tomorrow Matters initiative, which is aimed at finding new and better ways of using technology; encouraging young people to find solutions for tomorrow; and helping to ensure a healthy environment for current and future generations.