Yokohama branding continues on new Nike home and away kits for Chelsea FC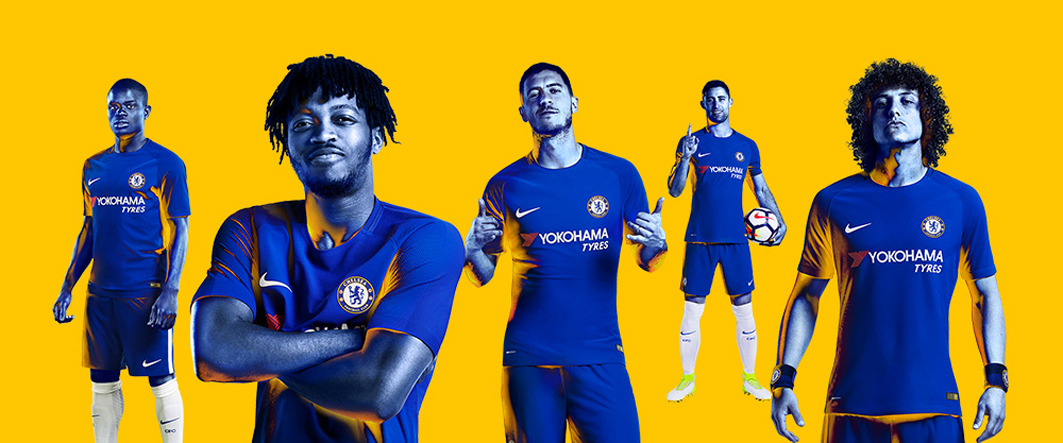 While Premier League champions Chelsea FC will be wearing Nike Football kits for the first time in the club's 112-year history, one thing that won't change for the 2017-18 season is shirt sponsor Yokohama. The tyre manufacturer continues into its third season of the five-year deal, which will see the champions defend their title and mount a challenge in the European Champions' League, increasing the reach of its global sponsorship.
"After this year's success in the Premier League campaign, we're incredibly excited about the season ahead," comments David Seward, managing director, Yokohama HPT Ltd. "Alongside its domestic competitions, Chelsea will also be competing for the Champions League, which, with the new kit design, is sure to give further awareness of the Yokohama brand throughout Europe and beyond."
Nike Football designers' new kit incorporates the breathable Aeroswift Technology, making it Chelsea's most advanced to date. It also feature zoned ventilation panels, textured fabric to reduce clinging and lightweight construction throughout.
Chelsea's home kit is deeply rooted in the club's heritage having taken an original shirt from the early 1970's to ensure that the blue was a perfect match for the club's colours. The round neckline includes a white trim with "CHELSEA" knitted into the back of the neck in white text, while the blue shorts feature white stripes on the flanks.
The away kit has been designed to reflect the London club's recent success. The white shirts and shorts have a soft silver hue to reflect the club's ever-growing collection of silverware. Chelsea's blue is the secondary colour throughout the kit, highlighting the trim on the round neck, ventilation stripes on the shorts and providing a block of colour for the NikeGrip socks.
Both 2017-18 Chelsea FC home and away kits are now available.