Tag: TCS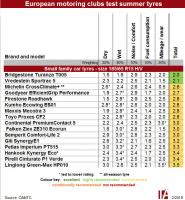 For their current summer tyre test, the main motoring associations in Germany, Austria and Switzerland (the ADAC, ÖAMTC and TCS) have looked at 32 products in total. Half of these were in the small family car size 185/65 R15 H/V, and the remainder size 215/65 R16C, tyres suited for use on vans, minibuses and campervans.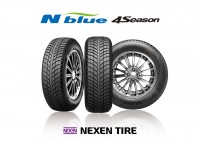 Victory in the all-season tyre test carried out by several European motoring organisations is, says Nexen Tire, proof of the superiority of its N'Blue 4 Season. The Nexen rubber was ranked first in the test of nine 175/65R14 T/H tyres thanks to its good performance in wet and icy conditions.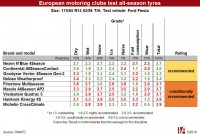 Three motoring clubs in Europe – Germany's ADAC, the ÖAMTC in Austria and Switzerland's TCS – have published the results of their joint all-season tyre test. The trio put nine 175/65 R14 82/86 T/H tyres through their paces, with dry testing taking place in the summer, the disciplines in autumn and ice and snow testing during the winter months.