DACH region auto clubs not convinced by all-season products in tyre test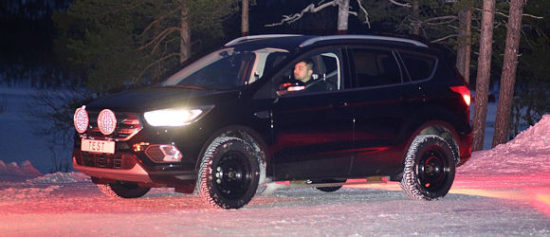 Germanophone auto clubs, ADAC, the Austrian Automobile, Motorcycle and Touring Club (ÖAMTC) and the Touring Club Switzerland (TCS) have presented the results of their joint all-season tyre test. Despite the rising popularity of all-season tyres in European markets, the clubs did not recommend any of the seven tyres in the test without condition. The tyres were tested in size 235/55R17 103V/Y using a Ford Kuga as an exemplifier of heavier, larger SUVs, which are themselves increasing in popularity throughout Western Europe. Such vehicles are also amongst those most likely to fit all-season products. Tyres tested were Bridgestone's Weather Control A005, Conti's AllSeasonContact, Goodyear's Vector 4Seasons Gen-2, Michelin's CrossClimate +, Nokian's Weatherproof, Uniroyal's AllSeasonExpert 2, and Vredestein's Quatrac Pro. The publication of the test was delayed from its original planned publication date in April due to the Covid-19 pandemic.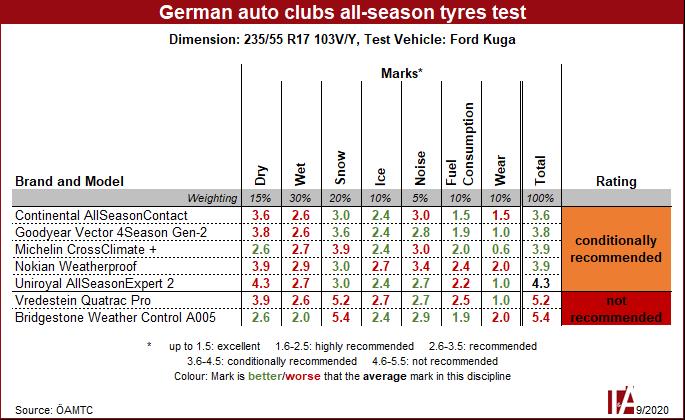 The testers said that its lack of a recommended all-season tyre was due to their devaluation by weaknesses that were too weak in at least one of the sub-disciplines. Five of the seven tyres were conditionally recommended by the associations, though four of these were deemed too weak in the dry. Michelin's CrossClimate + was the exception, but was perceived to be too weak on snow to recommend. The Bridgestone and Vredestein tyres were given not recommended ratings, while the Continental AllSeasonContact was made the test winner.
"Our last test of this kind took place in 2018 with all-season tyres for small cars. While it was still possible to speak of an acceptable compromise solution with some models – depending on your personal driving profile – the much larger dimension that has now been tested comes off significantly weaker," says Friedrich Eppel from the ÖAMTC.
While fuel consumption and wear were tested, the main focus in the test was on safety-relevant properties and dry, wet and wintry road handling, explains the Austrian Automobile Club. The fact that six models evidently showed only slight weaknesses in the wet was considered "somewhat pleasing". The Bridgestone Weather Control A005, which is already available in a later "Evo" version, was the most convincing tyre in the test in the wet, marked 2.0, despite being the last listed tyre – while all other tyres were ranked between 2.6 and 2.9. "A ray of hope because wet roads are common both in winter and in summer," says the ÖAMTC.
All-season tyres struggle to convince testers in dry or on snow
Since all-season tyres have to cope with all types of weather, the seven test subjects also had to prove themselves on dry roads. Their performance was compared to that of a summer tyre. Again, the Bridgestone model impressed, scoring the same as the "summer tyre with winter performance capabilities" Michelin tyre – each was recommended in the dry. The rest of the competitors consistently scored conditionally recommended.
"The argument to leave the car with all-season tyres in winter driving conditions anyway only partially applies, because many of the tested models do not do particularly well on dry roads, especially in summer," the ÖAMTC concludes.
The testers had a similar picture on snow. Continental, Nokian and Uniroyal were found there to be recommended, compared with two models classified as conditionally recommended (Goodyear, Michelin) and two as not recommended (Vredestein, Bridgestone).
The Bridgestone Weather Control A005 was identified as particularly problematic on snow – almost entirely responsible for its last-place finish. The performance of the Quatrac Pro on snow also led to its devaluation, although it achieved an overall score two-tenths better.
"An all-season tyre, with which you should get safely from A to B in any weather, cannot afford to slip up in any criterion. Anyone considering buying such a tyre should use the test results to think about their driving profile in advance. Because it depends exactly on whether an all-season tyre is even an option," says Eppel.
It also pointed out that the all-wheel drive often used in SUVs can provide deceptive safety, especially on snow-covered roads. "It mostly hides the weaknesses of a tyre uphill, but then downhill there may be – in the truest sense of the word – no stopping," the ÖAMTC points out.