Overall positive result – European clubs test winter PCR tyres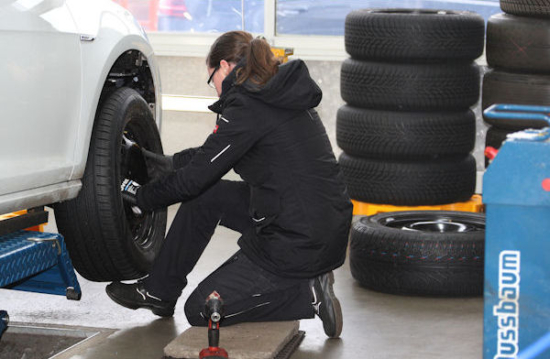 Three leading European motoring associations have published the results of their joint 2020 winter car tyre test. The ADAC from Germany, Austria's ÖAMTC and Swiss club TCS looked at 15 brands of tyre. While they didn't award any of the evaluated products their top ratings of 'very good' (ADAC) or 'excellent' (ÖAMTC, TCS), the clubs noted that overall test results were positive. In addition to five strong performers, seven further tyres were recommended and one conditionally recommended. Only two tyres failed to make the grade.
The clubs looked at the tyre size 205/55 R16 H, a dimension worn by the VW Golf and other popular models. All tyres were anonymously purchased via various retailers and evaluated at several sites, including Bridgestone's proving ground in Italy, Continental's facility in Germany and Testworld in Finland. A VW Golf GTI served as test vehicle. The tyres' performance in wet, snowy, dry and icy conditions respectively accounted for 30, 20, 15 and ten per cent of the total result, with noise, fuel efficiency and wear making up the remaining 25 per cent.
Five good/highly recommended tyres
Test winner: Bridgestone Blizzak LM005
+ Top performance in the wet, very good on dry surfaces, good on snow
Michelin Alpin 6
+ A well-balanced product, good on dry, wet and snow-covered roads, low wear
Dunlop Winter Sport 5
+ Highly-balanced, good on dry, wet and snow-covered roads, low fuel consumption and wear
Hankook i*cept RS2
+ Very balanced, good on dry, wet and snow-covered roads, low fuel consumption
Maxxis Premitra Snow WP6
+ Very balanced with top performance in dry conditions, good in the wet
Satisfactory/recommended: Midfield tyres weaker in dry
Falken Eurowinter HS01
+ Good in the wet
– Minor weakness on dry and snow-covered surfaces, fuel consumption
Continental WinterContact TS860
+ Particularly good in the wet, good on snow
– Weak on dry roads
Goodyear UltraGrip 9+
+ Top performance on snowy roads, good in the wet, low fuel consumption
– Weak on dry roads
Sava Eskimo HP2
+ Low fuel consumption
– Weak on dry roads
Toyo Observe S 944
+ Top performance on icy roads, low fuel consumption
– Weak on dry roads
Pirelli Cinturato Winter
+ Top performance on snowy roads, good in the wet
– Weak on dry roads
Giti GitiWinter W1
+ Good on snow
– Weak on wet and dry road surfaces
One acceptable/conditionally recommended tyre
Semperit Speed-Grip 3
+ Particularly good on snow
– Weak on dry roads
Two tyres weren't recommended
King Meiler Winter Tact WT81
+ Retreaded tyre with top result for wear
– Very weak in the wet, weak on dry roads, relatively loud
Tristar Snowpower HP
+ Particularly good on dry roads
– Very weak in the wet and on snow