Michelin on top in clubs' SUV tyre test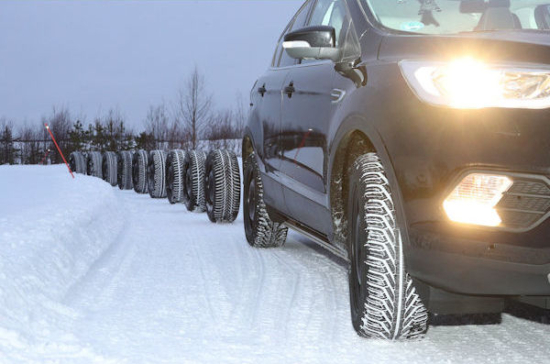 In addition to testing car tyres ahead of this year's colder months, three European motoring clubs have taken a close look at winter rubber for mid-sized SUVs and vans. The 13 brands of 235/55 R17 V tyre participating in this joint comparative evaluation from Germany association ADAC, Austria's ÖAMTC and Switzerland's TCS performed well overall, with results ranging from highly recommended/good to conditionally recommended/adequate.
As was the case for the 16-inch tyres, the clubs' testers anonymously purchased all 235/55 R17 V products through various retailers and evaluated at several sites, including Bridgestone's proving ground in Italy, Continental's facility in Germany and Testworld in Finland. A Ford Kuga served as test vehicle. The tyres' performance in wet, snowy, dry and icy conditions respectively accounted for 30, 20, 15 and ten per cent of the total result, with noise, fuel efficiency and wear making up the remaining 25 per cent.
Test winner:

Michelin Alpin 5

Michelin's Alpin 5 is the only tyre to achieve a good rating in all main criteria. The test team commended the tyre's precise steering on dry roads and the safety margin it offers should evasive action need to be taken. The Alpin 5 also delivered convincing handling in most wet test disciplines and performed well on snow and ice. Its performance earned the Michelin tyre an ADAC rating of 'good' and an ÖAMTC/TCS rating of 'highly recommended'.

+ Balanced tyre with top result on dry and snow-covered roads, good in the wet
11 satisfactory/recommended tyres
All the tyres falling into this category displayed some sort of weakness in at least one major criteria.
ESA+ Tecar Supergrip Pro
+ Top result on ice & for wear, good on snow-covered surfaces
– Minor weakness on dry roads
Goodyear UltraGrip Performance +
+ Good in the wet & on snow-covered surfaces, low fuel consumption
– Minor weakness on dry roads
Dunlop Winter Sport 5 SUV
+ Particularly good on dry roads, good in the wet
– Minor weakness on snow-covered roads
Vredestein Wintrac Pro
+ Particularly good on dry roads, good in the wet
– Minor weakness on snow-covered roads
Nokian WR Snowproof
+ Good on dry & snow-covered roads
– Relatively weak in the wet & on ice
Bridgestone Blizzak LM005
+ Top result in the wet & for fuel consumption, good on snow-covered roads
– Weak on dry roads
Kleber Krisalp HP3
+ Particularly good on snow-covered roads, good in the wet
– Weak on dry roads
Pirelli Winter Sottozero 3
+ Good in the wet
– Weak on dry & ice-covered roads
Cooper Discoverer Winter
+ Good on snow-covered roads
– Weak on wet & dry roads
Fulda Kristall Control SUV
+ Quietest tyre tested
– Weak on wet & dry roads
Continental WinterContact TS850 P
+ Particularly good in the wet
– Relatively weak on dry roads, weak on snow-covered roads
1 tyre adequate/conditionally recommended
Semperit Speed-Grip 3 SUV
+ Top result on icy roads & for wear
– Weak on dry roads