Bridgestone simplifies car tyre range while boosting sustainability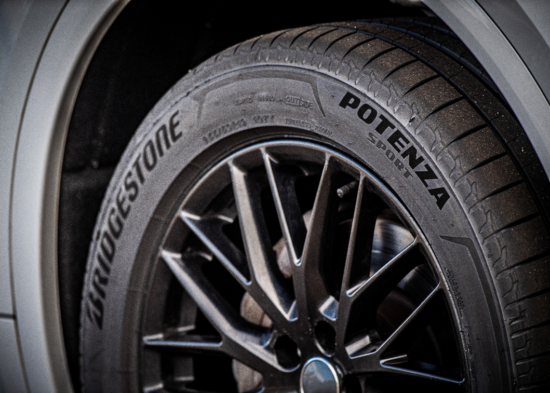 The world's largest tyre manufacturer has simultaneously turned to greener products and processes and enhanced performance in building its current car range
Bridgestone has looked to the past, present and the future in developing its most comprehensive consumer tyre range to date, which is more simplified, sustainable and sportier than ever before. The tyre giant has achieved notable positive test results for its latest product range, which, in its words, has been simplified and revitalised in the past two years.
Notably, the new Potenza Sport, the Turanza T005, the Weather Control A005 EVO and the Duravis All Season van tyre are recent additions to the line-up and all (bar the Potenza Sport and Duravis) benefit from Bridgestone's DriveGuard run-flat technology, which gives motorists the benefit of runflats – 50 miles at 50mph after a puncture – without needing to change wheels.
In a nod to the past, Bridgestone has leant on its many years of motorsport experience to produce the Potenza Sport, which is arriving at dealers shortly having been revealed in December 2020. This next generation tyre represents a new standard in premium, high-end sports performance, providing best-in-class performance in the dry supported by a premium wet package.
Tested by TÜV SÜD, Potenza Sport achieves the best performance in both dry braking and in cornering and straight-line stability versus competitors in the premium segment. And, with an EU label A-grade in wet grip across its full line-up and deemed best performer in wet cornering and handling in further tests performed by TÜV SÜD, Bridgestone Potenza Sport also offers outstanding wet performance. The product has been selected for original equipment fitments on supercars from Lamborghini and Maserati.
Looking to the future, evidence of Bridgestone's commitment to sustainable mobility can be found in a startling statistic. Around 30 per cent of all new OE fitments developed by Bridgestone EMIA in 2020 were created specifically for electric vehicles. From its ologic Technology – created specifically for BMW's all-electric i3 – to its Enliten Technology, Bridgestone is supporting the development of EVs through ground-breaking tyre technologies.
Deploying technology to conserve raw materials
As well as shaping a sustainable future of mobility in its product output, Bridgestone is showing equal commitment to investing in greener practices in the development of those products, as 2020 proved.
Virtual Tyre Modelling represents the future of tyre development at Bridgestone, and its already in use today. The technology enables Bridgestone to create a digital twin of the tyre at its development stage, reducing the volume of physical prototype tyres – and subsequently raw materials – needed, and cutting the product development time by up to 50 per cent. Thanks to Bridgestone's continued advancement and application of the technology in 2020, 20 per cent fewer experimental tyres were used in the development phase of OE tyres in EMIA from 2019. Furthermore, thanks again to the use of Virtual Tyre Modelling and the rise of indoor testing, Bridgestone EMIA reduced the distance of its fleet tests for OE by 25 per cent comparing 2020 to 2019.
Technologies such as Enliten have also reduced the raw materials that go into each product. Original equipment summer and all-season tyres launched by Bridgestone EMIA to market in 2020 had an average mass approximately ten per cent lower than the same products from 2019.
Consumer sales director Brett Emerson commented on Bridgestone's comprehensive product range: "In our Turanza T005, Weather Control A005 EVO, Duravis All Season and Potenza Sport we do believe we have one of the most impressive consumer product portfolio's in the marketplace today. It's also great that we've been able to work in partnership with the world's leading car manufacturers to meet our collective environmental goals and shape a more sustainable future of mobility, via our Enliten technology."
Bridgestone reviews 2020 OE successes
Over 80 fitments, more than 30 vehicle models, 13 car manufacturers – this is Bridgestone's tally of new original equipment fitments for 2020. Steven De Bock, vice-president Consumer Replacement and OE at Bridgestone EMIA, comments that it's "fantastic that we've been able to work in partnership with the world's leading car manufacturers to meet our collective environmental goals and shape a more sustainable future of mobility."
The year's highlights include the arrival of Enliten technology, which first hit the road as an original equipment tyre for Volkswagen's all-electric ID.3. Enliten technology reduces rolling resistance by up to 30 per cent compared with a premium Bridgestone summer tyre and reduces tyre weight by up to 20 per cent, which equals up to 2kg fewer raw materials used to produce the tyre. Enliten technology is now present in ten Bridgestone original equipment approvals, including on Volkswagen's electric SUV the ID.4 and its new Golf 8.
Bridgestone points out that around 30 per cent of its original equipment fitments for the EIMA (Europe, Russia, Middle East, India and Africa) region last year were exclusively designed for electric vehicles. The tyre maker adds that from ologic Technology, created specifically for BMW's all-electric i3, through to Enliten technology, it has "always supported the development of EVs through ground-breaking tyre technologies."
More than 60 per cent of Bridgestone EMIA's new original equipment launches in 2020 were within the HRD+ (18-inch and above) segment, reflecting growing consumer demand for larger tyre sizes.
Long-term & new partnerships
2020 was also the year that saw Bridgestone work with Lamborghini for the first time, as exclusive tyre supplier for its Huracán STO supercar. Bridgestone also developed bespoke Potenza Sport tyres for long-time partner Maserati's MC20 supercar.
As well as working with historically revered brands, Bridgestone also collaborated with a much-anticipated automotive newcomer in 2020: INEOS Automotive. The manufacturer's permanent four-wheel drive Grenadier will arrive on the market with Bridgestone Dueler A/T 001 tyres as its standard fitment when it is released in early 2022.
Looking through a sustainability lens
Commenting on Bridgestone EMIA's OE achievements in 2020, Steven De Bock said: "2020 was about looking at all of our projects – from start to finish – through a sustainability lens first and foremost. By making conscious efforts to use fewer raw materials, develop and apply our virtual tyre development technology wherever possible, and install the sustainable tyre technologies we're working on, like Enliten Technology, on more and more tyres, we've made great progress on this journey over the past 12 months.
"We're pushing the boundaries of what is possible in engineering to deliver new cutting-edge products that are developed in more sustainable ways to offer an increasingly sustainable performance."