British GT returns on two new Pirelli P Zero tyres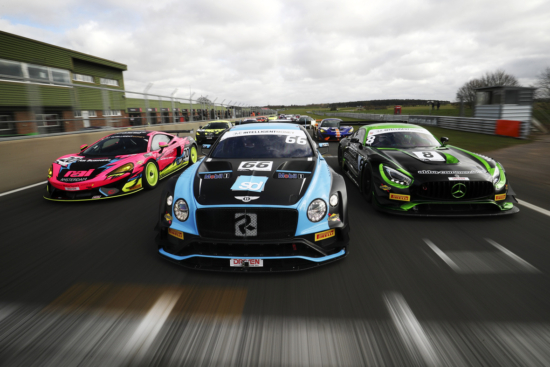 The 2020 British GT Championship will kick off at Oulton Park, Cheshire this weekend. 21 cars across two classes will run on new Pirelli P Zero tyres, the DHE and DHB in the GT3 and GT4 classes respectively. Jonathan Wells, Pirelli UK motorsport manager, said the manufacturer is "looking forward to finally seeing the new DHE tyre in action, after a long delay to the season start."
Pirelli's new P Zero DHE tyre: an evolution of the previous DHD2, with modifications designed to make it even more versatile for the wide variety of GT3 cars and drivers who use it. Wells added: "The new design for GT3 machinery provides a more consistent and reliable tyre, capable of delivering optimal performance throughout an ample range of track and weather conditions, in the hands of both professional and gentlemen drivers."
The P Zero DHB will replace the DH, once more with the aim of improving all aspects of tyre performance. Wells said: "One of the fastest-growing categories in GT racing is GT4, where the cars are becoming increasingly sophisticated. That's why we've come up with the new DHB tyre, to respond to the latest requirements of this exciting class. Oulton Park is always an amazing challenge, with some proper corners, and it should be a great weekend of racing."
Pirelli's Cinturato WH tyres remain in place for wet weather. All the tyres have been designed to work with a variety of car set-ups and driver.
Oulton Park start
Oulton Park is steeped with history and offers a demanding set of twisty and high-speed sections which are sure to put the GT3 and GT4 cars to the test. Normally the opening round of the season at Oulton Park takes place over the Easter weekend, but the Covid-19 pandemic forced the postponement of the opening round up until now.
In total, nine teams have entered the Oulton Park weekend in GT3 across five different manufacturers.
Jonny Adam and Graham Davidson won't be defending their drivers title this year, but the quality of the entry list for 2020 is still high. Last year's teams champion Barwell Motorsport is back with a pair of Lamborghinis and a driver line-up that includes British Touring Car Championship veteran Rob Collard.
Other manufacturers represented include Ferrari, Bentley, McLaren and Mercedes-AMG. Some of the top drivers include former British F3 and GT World Challenge driver Yelmer Buurman, who partners Ian Loggie in a Ram Racing Mercedes-AMG GT3 Evo, while there are two Lamborghini Factory Drivers in the WPI Motorsport line-up; Franck Perera and Dennis Lind are alongside Michael Igoe.
It's much the same story in the slightly less powerful GT4 series. The five manufacturers include Aston Martin, BMW, McLaren, Toyota and Ford, while among the star drivers are 2017 British F4 champion Jamie Caroline, ex-Porsche Carrera Cup GB driver Daniel Vaughan and Formula Ford 1600 regular Matt Cowley.
Perhaps the most eagerly anticipated entry in the GT4 category is that of Speedworks Motorsport's Toyota GR Supra GT4, which makes its debut in the championship.