Goodyear starts direct online tyre retail in Europe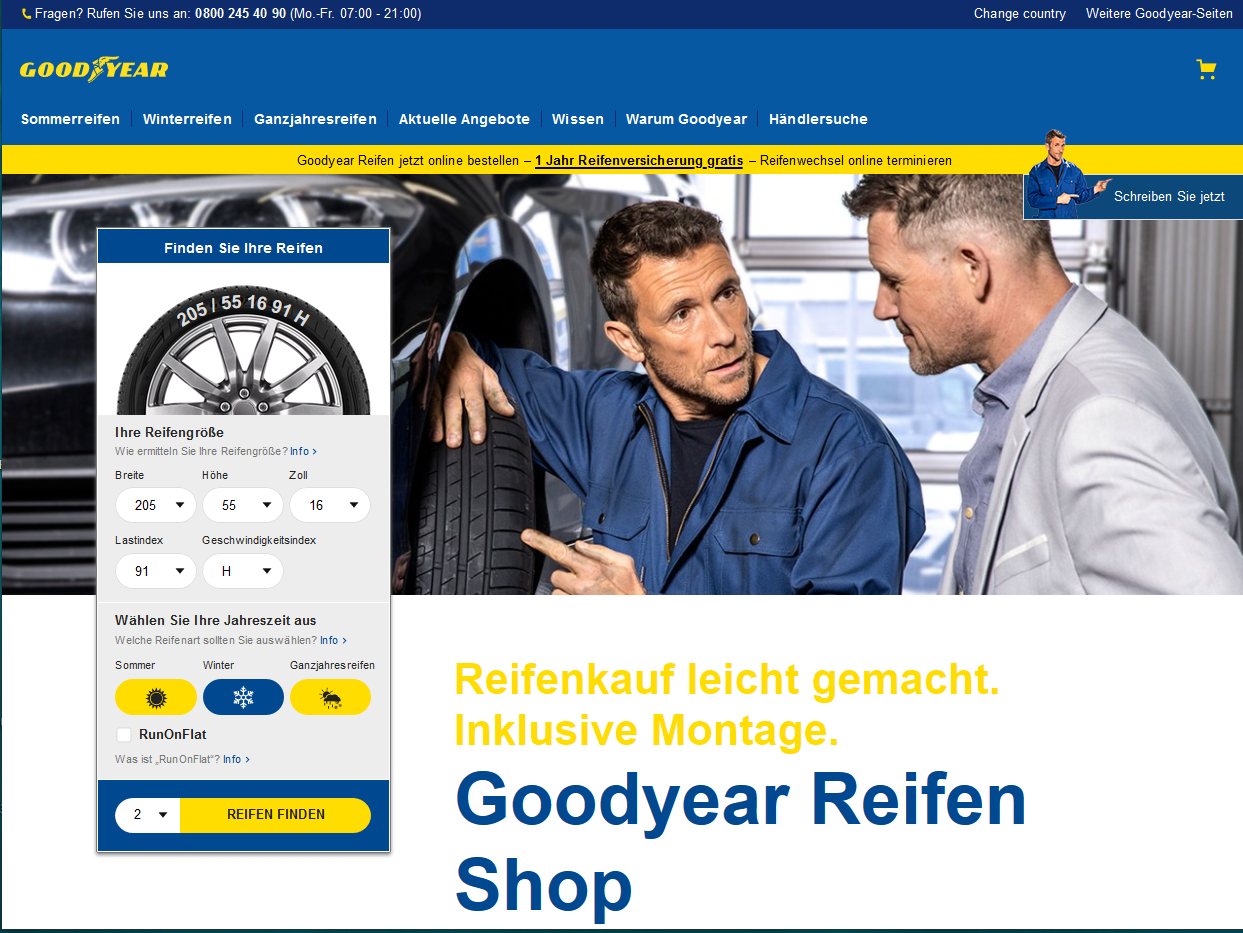 Goodyear has launched a direct to consumer online tyre retail solution in the European market. The roll-out begins with a pilot project in Germany. The direct-to-consumer approach is said to be in addition to existing distribution channels. Based at goodyear.de/shop, the site aims to "seamlessly plan the purchase from choosing the right tyre to assembling with a local trading partner".
"Our offering meets the needs of consumers who prefer the convenience of online shopping while focusing on quality and service," said Frédéric Schilling, director of E-Commerce Channel, Consumer Europe, Goodyear.
"Goodyear now offers German motorists an outstanding online shopping experience: They can purchase the world-class Goodyear products and book assembly at their chosen local retailer – an advantage, especially in a seasonal market like Germany, where peak assembly times are strong ", adds Jürgen Titz, managing director of Consumer EU Central & Car Dealer Channel.
At www.goodyear.de/shop, motorists based in Germany are the first in Europe to be able to buy tyres online directly from Goodyear – whether on the computer or on a mobile phone. The shop provides the available Goodyear tyre options along with clear information needed in the selection process to guide the consumer to the specific tyre that suits their needs.
The Goodyear Premium assembly network is linked directly to the shop via the online appointment scheduler and allows the consumer to arrange an appointment for tire assembly directly. The currently available partner network is accessible to more than half of German households within a 30-minute drive. Another benefit for consumers: all tire and assembly costs are paid online and in advance, so they can easily appear at the scheduled assembly time.
To meet the needs of these consumers, Goodyear works closely with selected tyre dealers and has built its own partner network for its eCommerce solution. In this way, Goodyear can provide consumers with a seamless online shopping experience while promoting business with local retailers.
The latest announcement is not Goodyear's first step into direct online tyre retail. The tyre manufacturer launched its eCommerce platform in the USA in 2015 and reports that it has adapted the model to the needs of the European market for the pilot project in Germany.
Roughly a year ago Goodyear introduced the "Roll by Goodyear" retail concept in the US, which aimed to integrate its online and self-owned bricks and mortar tyre retail business.
Tyres & Accessories contacted Goodyear UK in order to ask when the pilot project is likely to be extended to the UK. A Goodyear UK spokesperson replied: "The programme in Germany is a pilot, it has not yet been decided when/if this will be run in other markets across Europe. We will await the results of this pilot first."
Therefore, it is too early to say if and when a Goodyear UK tyre retail site might appear, but what we do know is that in January 2016, Goodyear UK set up a consumer-facing UK digital platform designed to influence consumers at the pre-sale research stage.