ZC Rubber's "remarkable" 2020, new products & digital strategy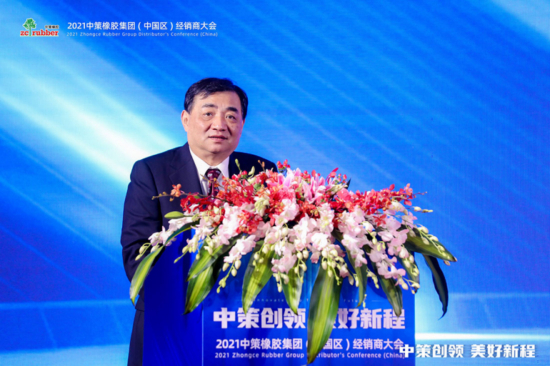 Good news stories have been thin on the ground of late, but when ZC Rubber describes 2020 as a "remarkable year," it means it in the very best sense of the word. The tyre maker elaborated on why the previous 12 months were so positive at its China Distributors Conference, which took place on 30 December. As well looking back on its achievements, ZC Rubber presented its vision for further digital innovation and gave a sneak preview of products arriving in 2021.
Despite corona's impact in 2020, ZC Rubber considers the year a continuation of its successful streak. Shen Jinrong, chairman of ZC Rubber Group, states that "it has been a remarkable year for ZC Rubber with new growth, products, and technologies." He shares that the company achieved global revenues of almost 30 billion yuan (£3.4 billion) in 2020 through the sale of more than 21.5 million truck and bus radials, 44 passenger car and light truck tyres, and 4.2 million cross-ply specialty tyres.
Shen argues that ZC Rubber's design and manufacturing capabilities for truck and bus radials can be "compared with the world's advanced level." The company's aims for the passenger car tyre segment are equally ambitious. Here it intends to "reach or even exceed that of some top brand products" through the launch of new premium lines such the Flagship Series.
In addition, ZC Rubber reports that recent investments in research and development have facilitated "explosive sales growth" for cross-ply (bias) tyres. "This year has become our fastest-growing year for bias tyres. And we will continue to explore more application scenarios for them," comments Shen.
Second overseas plant & future factory
Going forwards, ZC Rubber will further expand production capacities within its plants in China and Thailand, and the tyre maker intends to establish an additional overseas plant. The location of this second international facility has not yet been announced.
The tyre maker is also moving forwards with its digitalisation plans, which will transform its production site in Hangzhou, China into a "future factory." It is partnering with technology companies Alibaba and Hikvision for this project. According to Shen Jinrong, the tyre maker intends to establish the 'ZC Rubber Digital Brain' within the next five years. This smart network platform will link manufacturing, supply chain, equipment, channels, services, users, and marketing activities.
"We will continue to pursue innovation and advance towards a global leading technology-focused tyre company. It's our mission to provide consumers with solutions for a better life," said Shen.
Flagship TBR range
The chairman also told distributors that the company's ZC Rubber TBR Research Center will focus upon extending the recently-launched Flagship Series into the truck and bus radial segment in 2021 following the China market launch of Flagship Series passenger car tyres in December 2020.
Strengthening global sales channels
Another development we can look forward to in 2021 is a bolstering of online as well as offline channels in regional markets outside China. Ge Guorong, vice president of Zhongce Rubber Group, says efforts here will be based upon the company's successful experience within the Chinese domestic market.
Ge added that ZC Rubber will supplement its brand marketing with increased digital and online support for distributors. The company particularly views social media as an effective means of reaching people now working from home due to the pandemic.
"Partnership with customers is an essential element for us. We want to take this opportunity to thank you all for being valued partners and customers of ZC Rubber," said Ge Guorong. "In the face of the pandemic, we are going to deliver stronger marketing support across different channels to help our distributors maintain the growth of both market share and sales profit. We're confident in the way our business is growing, and we look forward to keeping this momentum in 2021 and beyond."