Giti Tire delivers podium finishes in European on, off road events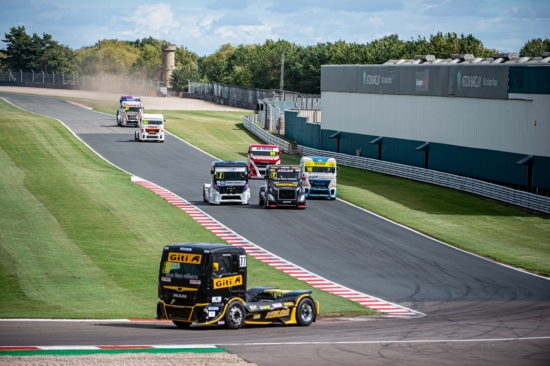 Giti Tire's abbreviated 2020 truck racing calendar included events in Germany, the UK and Poland has delivered impressive results for the company. The season started in July at the Dekra EuroSpeedway Lausitzring racetrack in Schipkau where the new fully race-prepared and Giti liveried MAN TGX truck made its debut. Weighing in at 5,300kg, the unit employs a 12.9 litre D26 engine capable of producing 1,000BHP. Driven by Martin Gibson, Giti Tire's manager – EU Testing Centre and Motorsport UK, the team recorded two first and two second place finishes across all four races.
Gibson then took his place on the grid for the shortened British Truck Racing Championship (BTRC) 2020 season. Kicking off at Donnington Park before heading to Snetterton and culminating at Thruxton, Giti sponsored ten-time BTRC champion Stuart Oliver also hit the track to form a formidable partnership.
Across the three meetings Gibson and Oliver secured two qualifying pole positions, 12 podium finishes and three first place chequered flags from 13 separate races which included reverse grid starts. This gave them final standings of fourth and third respectively on the season.
Giti competition tyres
Across all races the units ran on Giti Race-Tuned v1 global competition truck tyres in size 315/70R22.5, which are available to purchase by any team across Europe via Truck Sport UK.
The tyre has been specially designed with an even pressure distribution and footprint optimisation assuring competition cornering and braking performance.
Away from the tarmac another major event took place in September, the Breslau Rallye in Poland. Described as the 'Dakar of Europe', the race takes over 200 different vehicles to off-road extremes in both Cross Country and Extreme classifications, including the Giti sponsored Truck Team Holten.
Based out of the Netherlands, the relationship started at last year's event where the manufacturer supplied a retreaded version of its GT876 wide base, all-position on/off road tyre.
While delivering good results, Giti went further in 2020 and sourced eight GAO897 tyres in size 14.00R20 from The Far East. Truck Team Holten's modified Mercedes 1622 800HP finished eighth and the Scania 4×4 Rally P112 came in ninth from a field of over 30 vehicles in the Big Trucks category.
Stefan Fischer, managing director – product technology at Giti Tire Europe, said: "Many congratulations to all the drivers and their teams for getting out on the tracks while dealing with the many issues created by the Covid-19 pandemic.
"Competitive racing is hugely important for Giti as we learn how the tyres perform in the most extreme circumstances, and we study all parameters to take this information from the racetrack to the street. This is as true for heavy truck tyres as it is for light truck and passenger car."