Four European podiums for new Giti Tire racing truck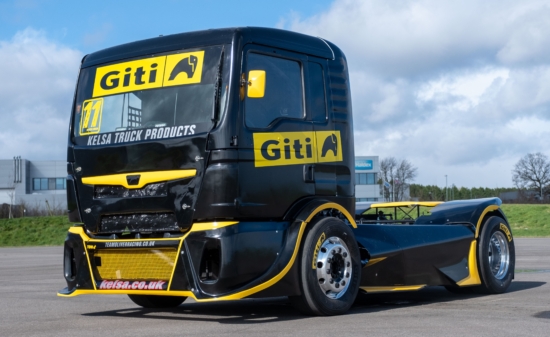 Manufacturer hails successful debut for unit racing on Giti Race-Tuned v1 global competition truck tyres
Giti Tire's 2020 racing truck had a very successful debut at the Dekra EuroSpeedway Lausitzring in Germany. The new unit recorded two first and two second place finishes. The 11-12 July event was held behind closed doors with ten teams from the Dutch, British and FIA European Championship. The fully race-prepared and liveried MAN TGX 18.480 secured its four podium positions in two qualification and two reverse grid races.
The unit, which was driven by the company's manager EU Testing Centre & Motorsport UK, Martin Gibson employs a 12.9 litre D26 engine capable of producing 1,000BHP, which is limited to 160KPH. Weighing in at 5,300kg, other special modifications include TOR custom body and chassis panels, a ZF gearbox in combination with a Sachs clutch, Bilstein dampers and standard calliper brakes with Juratek pads.
The truck ran on Giti Race-Tuned v1 global competition truck tyres in size 315/70R22.5, which are available to purchase by any team across Europe via Truck Sport UK. The tyre has been specially designed with an even pressure distribution and footprint optimisation assuring competition cornering and braking performance.
Design features include outside and inside shoulders, two longitudinal grooves and advanced sipes shape, orientation and distribution. The racing compound has a special polymer for better grip, distinct functional resin for better handling and CB/silica blending for increased tear resistance.
Shortened BTRC to kick off 2020 season
Gibson and the new MAN TGX will also take their place on the grid in the shortened British Truck Racing Championship 2020 season.
It kicks-off at Donnington Park on August 22 and 23 before heading to Snetterton on September 19 and 20, Pembrey on October 3 and 4 and culminating at Brands Hatch on November 7 and 8.
Giti Tire will also continue as a sponsor of Team Oliver Racing, and work in conjunction with Stuart Oliver at the races.
Gibson said: "We were ready to unveil the truck at this year's Commercial Vehicle Show ahead of a full season, so to say I've been desperately waiting for the racing to start is something of an understatement.
"The Dekra EuroSpeedway Lausitzring meet was a very last minute event which proved very useful, as well as gaining a greater understanding of the vehicle and the workings of the team we got some great exposure and generated some fleet interest.
"The marketing opportunities and brand awareness from our continued involvement in the truck racing arena is paying dividends. We see the investment in the new truck as the next logical step in competing nearer the front of the grid and raising our profile still further."