Pirelli heads to Snetterton for penultimate British GT round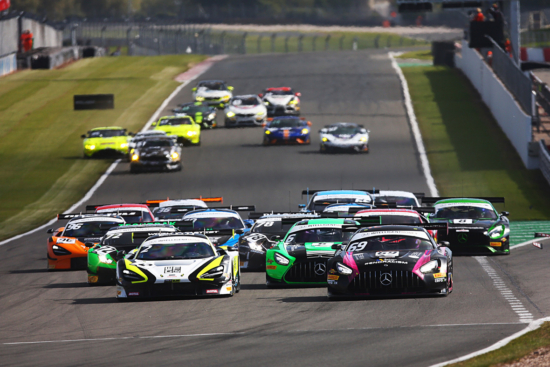 Two one-hour sprint races at Snetterton make up the penultimate round of the Intelligent Money British GT Championship, following the Donington endurance test last time around. Exclusive tyre supplier Pirelli will supply its DHE and DHB tyres to competitors on the challenging 300 layout of the Snetterton circuit. With tight and twisty sections and heavy braking, the demands on tyres could make strategy a crucial factor in determining the weekend's winner.
Jonathan Wells, Pirelli UK motorsport manager, says: "The Snetterton 300 circuit is fast and technical and provides a varied challenge for all four tyres. High speed lateral stability is critical particularly in turn 1 (Riches), and in the final section of the lap from Nelson through to the exit of the long and sweeping Coram Curve. Traction out of the final corner and in the infield part of the track as well as change of direction are also key in putting together a quick complete lap.
"Wear is kept at bay by quite a smooth asphalt which means tyre consistency is usually very strong, with the two one-hour race format also helping in this regard. The weather this weekend looks like it will be the main differentiator with rain forecast across the weekend, which could lead to interesting variances in tyre usage between the slicks and wets and could also lead to some unpredictability in grid positioning with Saturday's forecast currently looking particularly grim."
For 2020, GT3 competitors are using Pirelli's new P Zero DHE tyre: an evolution of the previous DHD2, with modifications designed to make it even more versatile for the wide variety of GT3 cars and drivers who use it. There is another new tyre for GT4 as well, with the P Zero DHB replacing the DH, once more with the aim of improving all aspects of tyre performance. The Cinturato WH tyres remain in place for wet weather.
Snetterton's long radius first corner at Riches will give the left-front tyres some serious punishment while the braking zone at Montreal comes up quickly. The short, sharp shoot between Palmer, Agostini, Hamilton and Oggies means that the tyres are given no let-up, with traction out of Agostini key to getting close enough to the car in front to set up a potential overtake into Oggies.
The circuit then rejoins its original layout, with the back straight leading into the Brundle Chicane and the Bomb Hole before negotiating the long right-hander of Coram before the final braking zone of Murrays to finish the lap.