Goodyear 'thrilled' with Vector 4Seasons Gen-3 all-season tyre test wins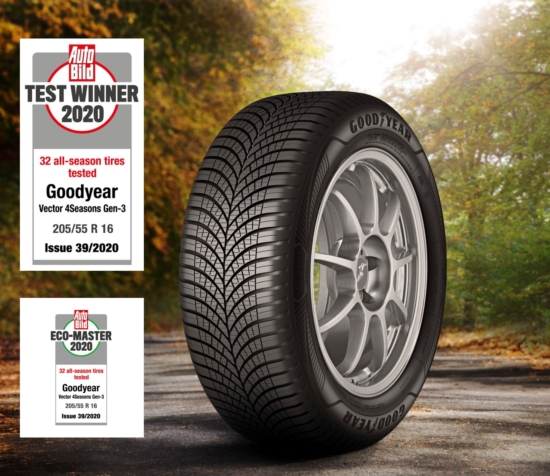 Goodyear's new Vector 4Seasons Gen-3 sealed two more test victories for the manufacturer that has more all-season test wins than any other. German magazine Auto Bild and British website Tyre Reviews made the tyre their number one in their most recent tests for the rapidly expanding segment.
"It's great to see wins with the Vector 4Seasons Gen-3 product so soon after its launch into the market. We are particularly thrilled to be recognized by prestigious publications such as Auto Bild and Tyre Reviews," said Mike Rytokoski, chief marketing officer for Goodyear Europe.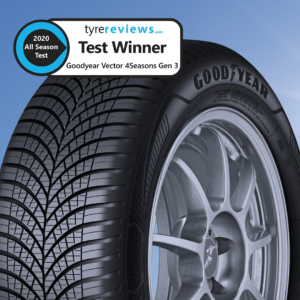 Auto Bild's editorial team named the Vector 4Seasons Gen-3 winner of their current all-season tyre test, highlighting the tyre's "convincing performance in all weather conditions. Dynamic handling on snow, in wet and dry conditions. Very good winter performance, high mileage." Auto Bild also awarded the tyre its EcoMaster title in recognition of its test-leading performance in the mileage, rolling resistance and price/mileage ratio categories. Tyre Reviews said the tyre had "the most rounded ability" of the nine all-season tyres tested.
Goodyear describes the development of all-season tyres as "one of the greatest challenges for tyre engineers." Goodyear uses test tracks around the world all year round to develop its all-season range. "All in all, test drivers run a real marathon as they cover about 320,000km at the wheel of the test vehicles. In such a development project, they circle the globe a total of eight times. In addition, some 36,000 engineering hours and 3,800 laboratory tests are required to achieve the desired performance level of the new tyre," explains Alexandre Scharis, technical project manager for winter and all-season, consumer EMEA at Goodyear. The Vector 4Seasons Gen-3 combines three key technologies – Snow Grip, Dry Handling, and Aqua Control – to provide its test-winning balance of performance criteria in snowy, wet and dry conditions.
"Goodyear made significant investments to make the best even better with the latest generation of our award-winning Vector 4Seasons tyre range," Rytokoski continued, "Not only have we delivered a product with well-balanced performance, but, by leveraging our experience from endurance racing we are providing improved value for drivers who will benefit from a 14 per cent improvement in mileage and six per cent improvement in energy efficiency versus the previous generation of the tyre."