Five new Yokohama tyres for 2020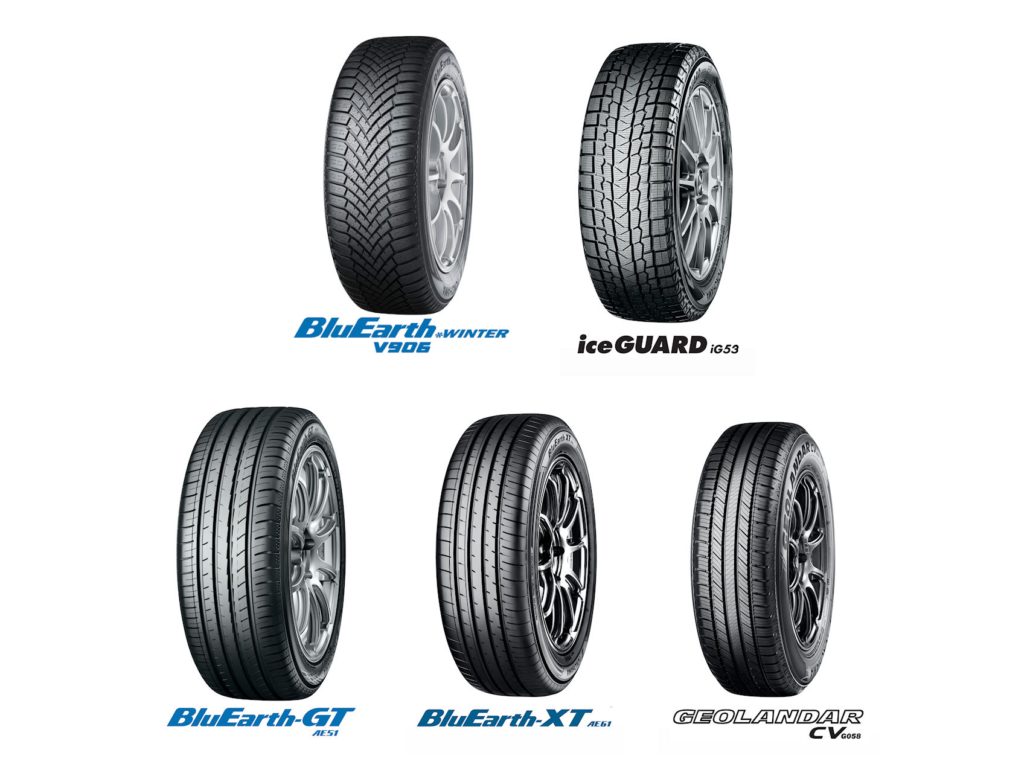 Yokohama Rubber has long been one of the most significant firms within the tyre industry to exhibit at the Geneva International Motor Show. Although this year's event was cancelled, the tyre maker has proceeded with the virtual launch of no less than five products destined for European markets. The new additions to the Yokohama range are the BluEarth-GT AE51, BluEarth-XT AE61 and Geolandar CV G058, as well as the BluEarth Winter V906 and IceGuard Studless IG53 winter patterns.
BluEarth-GT AE51
The Yokohama BluEarth-GT AE51 was launched in Japan last year. From this spring it will also be sold in Europe, Asia, the Middle East, Latin America, Oceania, and Africa. The entire range covers 66 sizes from 245/35R19 93W to 155/65R14 75H. Availability will vary from market to market.
As the letters GT suggest, the tyre was developed as a grand touring fitment for mid-range saloons. It features an asymmetric tread pattern for ride comfort and steering stability as well as lightning grooves and blade-cut sipes in the pattern for better performance on wet surfaces. Fuel efficiency has been improved by a two-layer tread compound that suppresses energy loss resulting from heat generation, a side profile that reduces distortion, and a dimple shoulder design that facilitates heat dissipation.
BluEarth-XT AE61
The Yokohama BluEarth-XT AE61 is a summer tyre for crossover urban SUVs. The range's rollout in global markets began in February and, depending on region, customers will be able to choose from up to 27 sizes between 235/55R20 102V and 215/70R16 100H.
The tread pattern is again an asymmetrical one. It provides a high rigidity from the shoulder to the centre rib that contributes to handling performance and resistance to uneven wear. In addition, four straight grooves combined with inside narrow grooves aid the tyre's wet-grip performance. Tyre-road noise is suppressed by the use of non-penetrating grooves that suppress air-pumping noise and a five-pitch tread pattern variation. The tyre's compound is a nano-blend rubber that combines silica and polymer to enhance wet grip performance and fuel efficiency.
Geolandar CV G058
A successor to the 2012-launched Geolandar SUV, the Yokohama Geolandar CV G058 is being "gradually" introduced into markets around the world. This grand touring tyre for crossover SUVs is produced in 43 sizes from 265/50R20 107V to 205/70R15 96H.
In addition to continuing its predecessor's suitability for city driving, the Geolandar CV G058 has been enhanced to deliver greater comfort on long drives. The tyre's tread features Yokohama's proprietary 'sipe-based pattern', which increases edging efficiency. The new compound contributes to stable driving in various conditions, including roads with low surface temperatures. In addition, a newly-developed profile achieves a wide and flat contact shape that further improves durability and resistance to uneven wear.
Yokohama Rubber claims these features have helped raise performance across the board – compared with the predecessor tyre, the Geolandar CV G058's wet braking is 12 per cent better and wet handling stability improved by 13 per cent. Road noise is 34 per cent better and pattern noise is nine per cent lower. In addition, vertical axial force, the force applied to the tyre when going over bumps or other protrusions, has been reduced by seven per cent.
BluEarth Winter V906
Sales of the Yokohama BluEarth*Winter V906 will begin in Europe this autumn. This car tyre range will be available in 30 sizes from 225/40R18 92W XL to 185/65R15 88T. Yokohama Rubber says that while maintaining a high level of wear resistance, the new tyre improves upon the performance of predecessor model the BluEarth*Winter V905 in two key areas of importance to European drivers: Performance on snow and ice and wet grip performance.
The tyre's tread pattern is based on Yokohama's 'Harmony' tread design concept that positions grooves, blocks, and sipes in a layout aimed at delivering more powerful performance. V-shaped grooves displace snow and water, while the 'Uniform Pressure Blocks' evenly distributed over the entire pattern increase the tyre's rigidity. 3D sipes enhance the tyre's edge effect to further improve its performance on snow and ice.
The V906's tread compound is a newly-developed formulation that uses a large amount of silica to enhance wet grip performance. Yokohama Rubber's proprietary A.R.T. Mixing Technology is employed to increase the dispersibility of materials. Meanwhile, the tyre's construction includes a low-heat generating undertread rubber that aids rolling resistance optimisation.
IceGuard Studless IG53
The Yokohama iceGUARD iG53 will also arrive in Europe this autumn. The studless winter car tyre range will be sold in 16 sizes from 245/45R18 100H XL to 175/65R15 84T. A dozen of these will be H speed rated, indicating capability to run at speeds up to 130 mph or 210km/h.
A new directional tread pattern featuring grooves and sipes increases the contact area and the tyre's rigidity, maximising the edge effect on ice and snow. Yokohama Rubber's proprietary water-absorbing rubber compound has been used to "whisk away" the micro-layer of water on top of ice that results in hydroplaning. In addition, rolling resistance and tyre rigidity is helped by Yokohama's low-heat generating undertread rubber.