Falken drifts into the world of art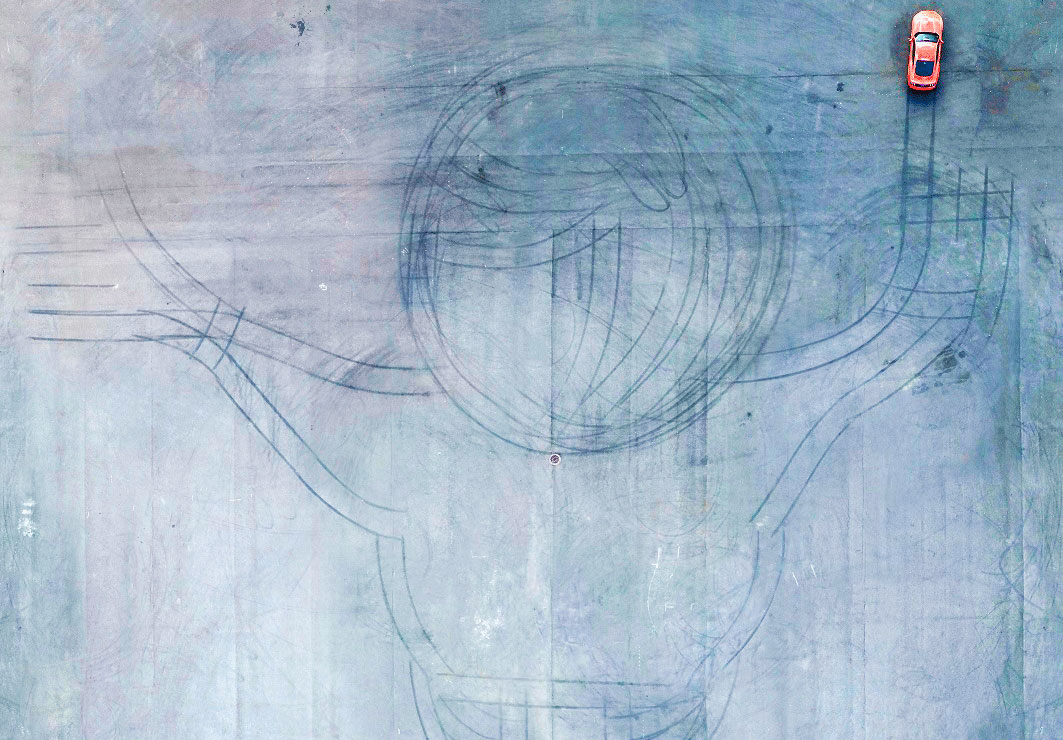 Who needs paint when you've got Falken tyres? From behind the wheel of a 421-hp Ford Mustang, Falken test driver Michael Stenten has elevated drifting to an art form of an entirely different kind. The result of his efforts enjoyed their public debut earlier this month.
In order to promote its 'Masters of Excitement' theme, Falken Tyre Europe approached Germany's Offenbach University of Art and Design with the proposal to create a 5,000-square metre asphalt illustration. The concept piqued the university's interest, and to realise the project – which lies a long way outside its normal remit – the university's Conceptual Design faculty launched a special drawing and illustration course.
The 12 course participants quickly grasped that the task would require the use of more than just their creativity and design talent, with parameters such as turning circle and vehicle wheelbase just two extra considerations they needed to bear in mind. The students were assisted by a newly developed computer programme that simulates drift patterns and vehicle behaviour, and this enabled them to create an array of widely varied drafts. Ultimately, a sketch by student Fabia Matveev was chosen as the basis of the project. Matveev's artwork gives the viewer a bird's-eye view of a child who appears to be playing with a toy car.
"I was inspired by exploring the dimensions involved in the process," explains Matveev. "A sports car with squealing tyres carving out tracks in the ground is a highly imaginative image that particularly fascinates children. Now we've recreated that idea on a whole new scale, using a real Ford Mustang 5.0 TI GT."
Working closely with project leads Nikolas Brückmann and Yuriy Matveev, Stenten spent two days performing high-precision drifts over the Nürburgring asphalt, creating the illustration line-by-line. "The Drift Picture project gave us the opportunity to immerse ourselves in interdisciplinary work which incorporated aspects we normally never encounter in our studies," enthused Matveev."
The street art project was extensively documented in photographs and film footage, and was unveiled to the public at the university's stand during the ten-day 'Hessentag 2017' festival in Germany this month. The project will also feature in Falken's brand communication and be showcased in the company's social media channels.
"Under our 'Masters of Excitement' banner, we engage in branding activities in motorsports, in the Red Bull Air Race and in football, focusing on performance and inspiration," comments Stephan Cimbal, head of marketing Europe at Falken. "Now we're seeking to express the brand value of 'Excitement' in a new, different and stunning way."