Tyre trade returns fire after attack from German army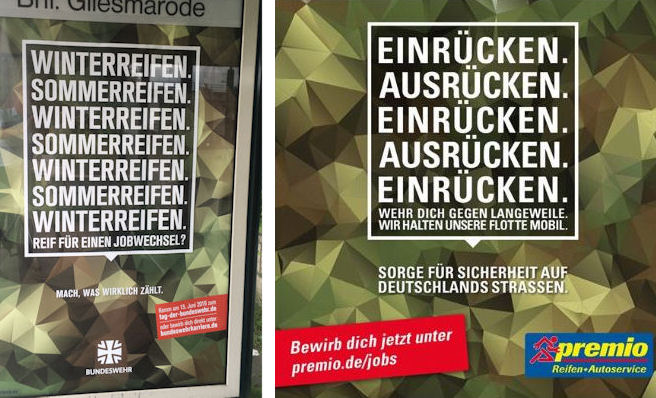 The UK tyre trade may have to contend with Brexit and cuts within the automotive sector, but at least the army isn't taking potshots at us. Spare a thought for our counterparts in Germany, who of late have found themselves in the crosshairs of their country's defence forces.
Tyre fitters are the apparent target of a recruitment campaign run by Germany's Bundeswehr. Ads positioned in prominent locations such as bus stops paint a dreary picture of the tyre fitter's lot in life, mounting and dismounting summer and winter tyres from cars, season after season after season. The ads then suggest that changing jobs may be preferable to changing tyres.
The tyre trade isn't impressed. One dealer, Hamelin-based Frank Danger, commented that the ad campaign is "hard to beat for tastelessness, audacity and cheek." Complaining about the unfair portrayal of the tyre trade as a boring profession, he observed that "even the Bundeswehr needs tyres that some 'bore' must mount."
While Germany's tyre trade association the BRV hasn't objected to the ad campaign, commenting only that the Bundeswehr posters will make people think about changing their tyres, fast fit chain Premio Reifen + Autoservice promptly fired a return salvo at the uniformed tyre dissers. In a poster of its own, Premio makes fun of the Bundeswehr's embarrassing reputation for possessing a fleet of grounded fighter jets, tanks that are less than battle-ready and submarines confined to harbour.
"Defend yourself against boredom," states Premio's latest ad. "We keep our fleet mobile." Premio takes the subject further on its Facebook page, suggesting that the Bundeswehr ad campaign aims to headhunt tyre fitters in order to draw some much-needed competence into its ranks. "Lieber vom Profi als von der Leyen!" – from experts rather than von der Leyen – writes the fast-fit chain in a thinly veiled dig at Ursula von der Leyen, the Defence Minister responsible for the Bundeswehr's woes.
It is unlikely that this war of words will escalate into a more lethal form of bickering, but should both parties reach into their respective arsenals, our bet is on Premio and its army of tyre professionals standing victorious when the smoke clears.