Yokohama premieres Advan Fleva V701 UHP tyre; Advan A052 road-legal tyre and Geolandar A/T G015 SUV tyre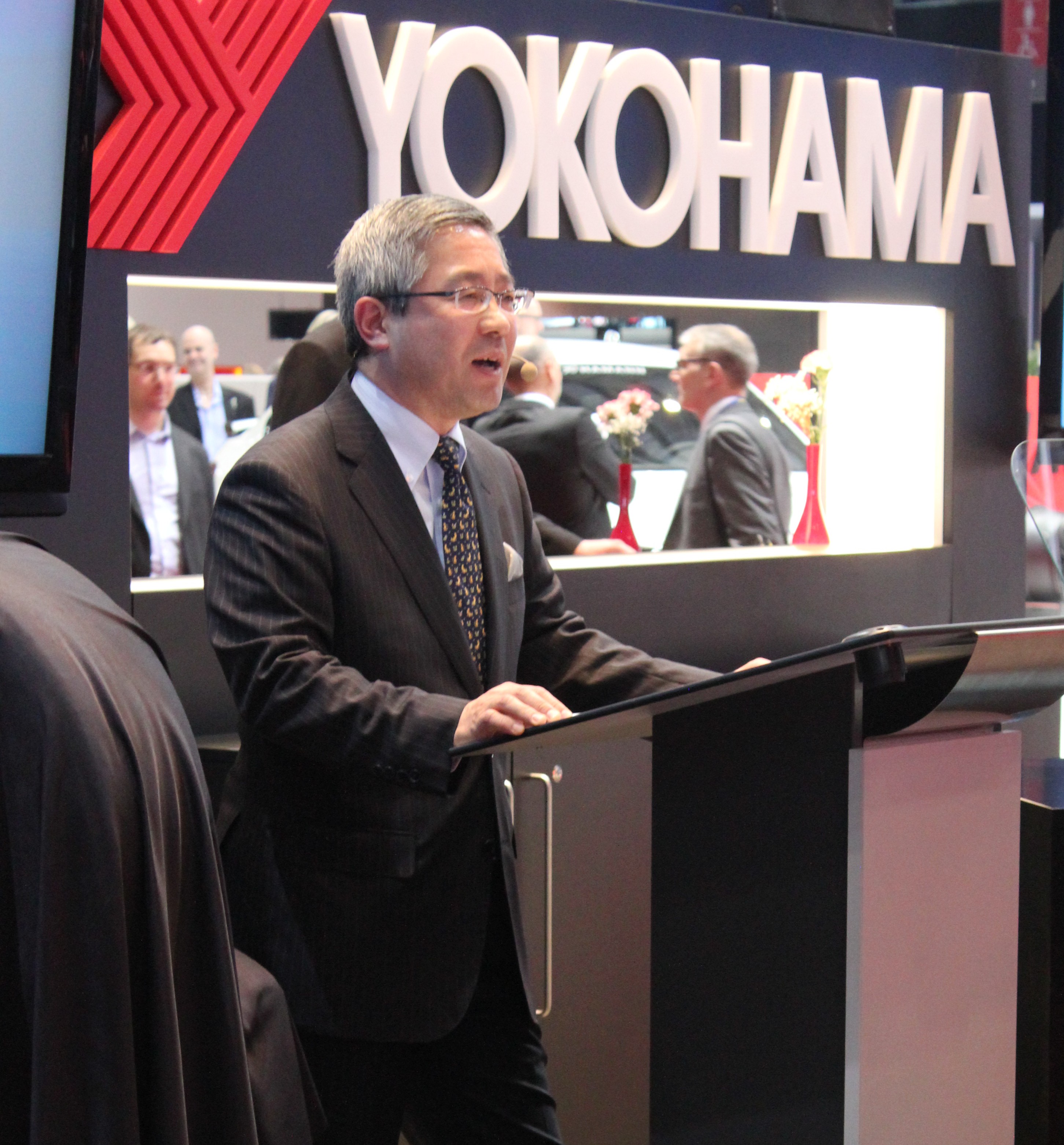 Yokohama Rubber presented three premieres at this year's Geneva Motor Show – with products ranging from the Advan Fleva V701 UHP tyre to the Geolandar A/T G015 SUV tyre and the Advan A052 road-legal track day tyre in between.
The new Advan Fleva V701 UHP is described as a "high-performance sport tyre" and represents the latest addition to Yokohama's flagship Advan range. The new tyre will be available from July 2016 in 24 sizes. 43 sizes ranging from 195/55R15 85V to 255/30R20 92W will be available in early 2017.
According to the Yokohama Europe GmbH president Keishi Hashimoto, who introduced the products, the Advan Fleva V701 reinforces the company's Advan concept, focusing on increasing drivers' control of the car. To this end, the new high-performance sport tyre reportedly brings "greater driving pleasure to a diverse group of car owners…" and "…delivers sporty handling on city streets, highways and winding roads".
The new tyre's safety performance is demonstrated in its attainment of A grade wet braking, according the European tyre label scale. It is also said to deliver "a supremely quiet ride". At the same its low rolling resistance performance reportedly makes it "more environmentally friendly than current sport tyres".
Advan tyres are widely used in motor sports and this year have been adopted as the controltyres for the Japanese Super Formula Championship series, Asia's ultimate Formula racing series.
Advan A052 launched
From July 2016 Yokohama will begin marketing a new street-legal sport tyre developed for use in circuit and gymkhana-type events. The Advan A052 will come in 16 sizes, ranging from 16 inches to 18 inches. It replaces the Advan A048 "ultimate street sport tyre" Yokohama previously marketing in this space.
According to the company, the new tyre improves on the A048's "already superior cornering and stable handling" to deliver "unprecedented grip performance in wet and dry conditions". It does this with a tread developed from the Advan A051T tarmac rally tyre which has been in rallies across. Its other godparent is the well-known Yokohama A008.
The new A048 has been produced with the United Nations Economic Commission for Europe's global standard for rolling sound emissions, ECE Regulation No.117 Revision 2 (R117-02) in mind. Indeed, Keishi Hashimoto reported that the new tyre already exceeds the levels that will be required of tyres in 2018.
Geolandar A/T G015 introduced
The third product in the triple launch was the Yokohama Geolandar A/T G015, which is aimed at Sports Utility Vehicles (SUVs). This tyre will be available in sizes ranging from 15 to 20 inches from July 2016. According to the company, the Geolandar A/T G015was developed to "support the active vehicle lifestyle of drivers by delivering superior performance on any road surface under any weather condition".
The use of an optimized tread pattern and new compound reportedly increases the tyre's wear performance and traction performance on wet and snow-covered roads. It too is compliant with ECE R117-02 and at – perhaps more surprisingly – also bears the three peaks mountain snowflake winter tyre symbol.
The latest launch comes a year after Yokohama launched the Geolandar H/T G056, a highway-terrain tyre for mid- and large-size SUVs. Together with the latest launch, Yokohama says it has developed "a full line-up of Geolandar tyres to meet the diverse needs of SUV drivers. Other tyres in the series include the Geolandar SUV for small and midsize urban crossover SUVs, the Geolandar M/T+ for off-road use, and the Geolandar I/T-S studless tyre.