Yokohama Geolandar OE on New Jeep Compass in North America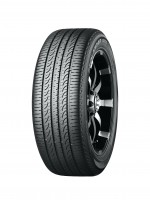 The Yokohama Rubber Co., Ltd. has begun supplying its Geolandar G055 as original equipment for the all-new Jeep Compass, which went on sale in North America in June 2017. The new Compass will come factory-equipped with 225/55R18 98H size tyres. In addition, Yokohama's Geolandar SUV is original equipment on the Jeep Compass launched in China in late 2016.
According to the company, the Geolandar G055 is an SUV tyre based on the company's leading-edge BluEarth tyre technology. In addition to delivering the utility performance required for driving on various road surfaces, Geolandar G055 tyres reportedly contribute to the vehicle's superior fuel-efficiency, comfort and safety.