The good, the bad and the ugly – Auto Bild tests 50 tyres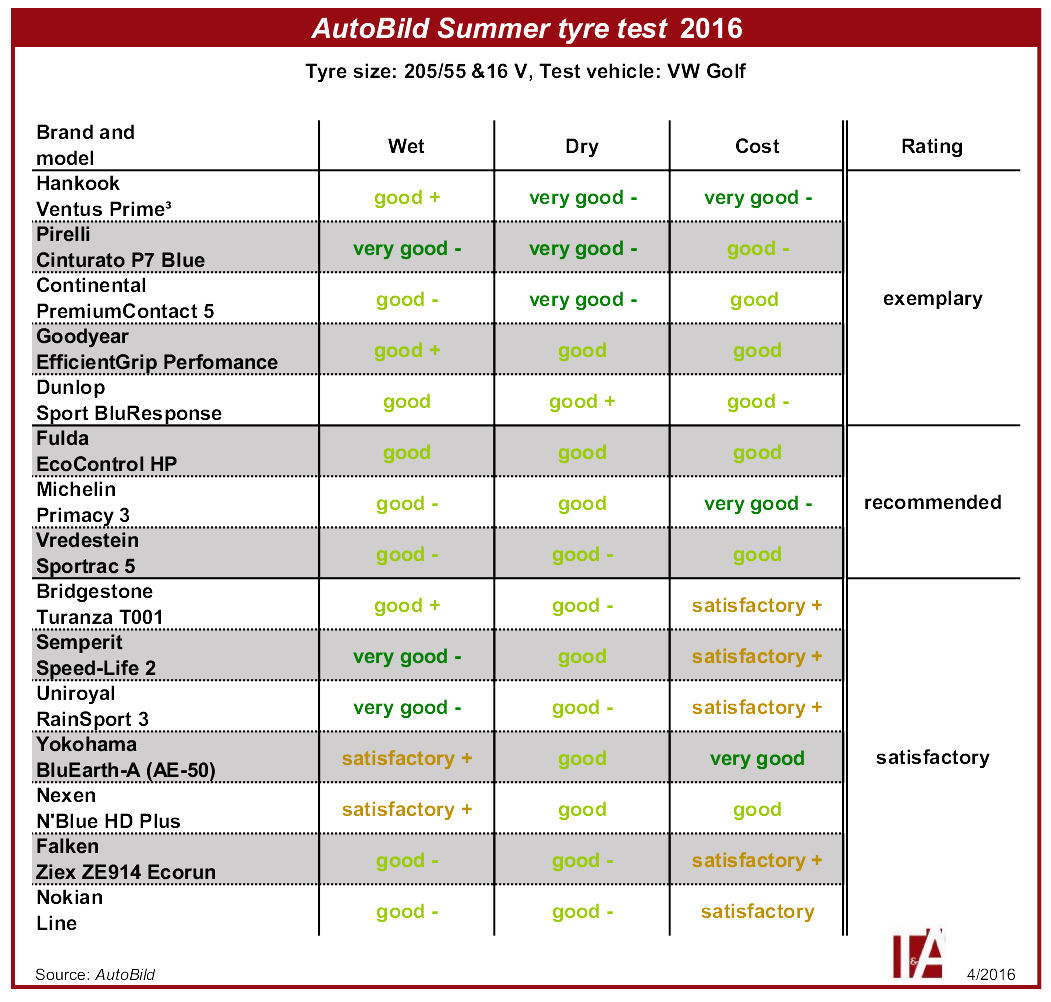 In the introduction to its 2016 summer tyre test, Auto Bild comments that the range of tyres on offer has never been as large as it is today, and this abundance of choice can be overwhelming for drivers. The publication wishes to "shed light" on the current crop of tyres on the market, and thus assigned its testers the task of evaluating no less than 50 size 205/55 R16V tyres for compact cars.
Bearing in mind that many tyres overwhelm, the Auto Bild test team whittled this large field of contenders down to 15 tyres by evaluating each product's performance in a 80 to 0km/h wet braking test and a 100 to 0km/h dry braking test; only the 15 tyres with the shortest combined stopping distance progressed to the second, more comprehensive round of wet, dry, comfort, environmental and value tests. Commenting on this elimination test round, Auto Bild editors Dierk Möller and Henning Klipp comment that "huge differences in performance" existed between the 50 tested tyres, with 11 products "braking so poorly that they must be deemed a real risk."
Möller and Klipp consider the five tyres finishing at the upper end of the final 15 table to be products that offer "convincing performance and a good measure of driving pleasure at a fair price." Occupying the top spot was the Ventus Prime³. The latest generation Hankook comfort tyre was praised for delivering the best driving characteristics on wet and dry surfaces, precise steering, dynamic handling, along with good mileage and price/performance ratio. Auto Bild gave the Ventus Prime³ an 'exemplary' rating, a result it shared with the Pirelli Cinturato P7 Blue, Continental PremiumContact5, Goodyear EfficientGrip Performance and Dunlop Sport BluResponse.
Three tyres gained a rating of 'recommended'. The Fulda EcoControl HP was judged an affordable summer tyre with balanced characteristics in all weather conditions and low rolling resistance, while the Michelin Primacy 3 was lauded for its balanced performance in the dry, comfort and rolling resistance (it was named the test's most 'environmental' tyre) but was marked down for its high price and understeer in the wet. The Vredestein Sportrac 5 was considered a balanced product with good price/performance ratio, safe driving characteristics, short braking distance on wet surfaces and precise steering characteristics, however lateral control on dry surfaces was less judged than optimal.
The following seven tyres all received a 'satisfactory' rating. These are, in order of finishing, the Bridgestone Turanza T001, Semperit Speed-Life 2, Uniroyal RainSport 3, Yokohama BluEarth-A (AE50), Nexen N'blue HD Plus, Falken Ziex ZE914 Ecorun and Nokian Line.
And what about the 11 tyres that delivered the worst result in the braking tests? Auto Bild's recommendation is "hands off!" These tyres, which according to the publication's criteria failed the first-round safety check, were (from 40th to 50th place) the Evergreen EH23, Kormoran Gemma b2, Tristar F109 Ecopower 2, Constancy LY688, Minerva F109, Taurus HP401, Goodride R-VH680, Infinity INF-040, Goform G745, Multirac Mul Comfor and the Toyo Nanoenergy 2. This last-placed tyre, with a combined braking distance was 17.9 metres longer than the best-performer in this initial test, has now been replaced by the Nanoenergy 3.
Tyre tests and transparency have been in the headlines this month, and Auto Bild reports that its size 205/55 R16V summer tyre test was supported by several tyre makers – magazine tyre tests typically are. Continental, Goodyear, Hankook, Michelin, Pirelli and Vredestein were named as having supported the test in one way or another. All 50 tyre models were anonymously purchased from retail outlets, and most testing took place at the ATP site in Papenburg, Germany and the IDIADA facility in Spain. The mileage test was performed by DEKRA.