Behind the Geolandar H/T G056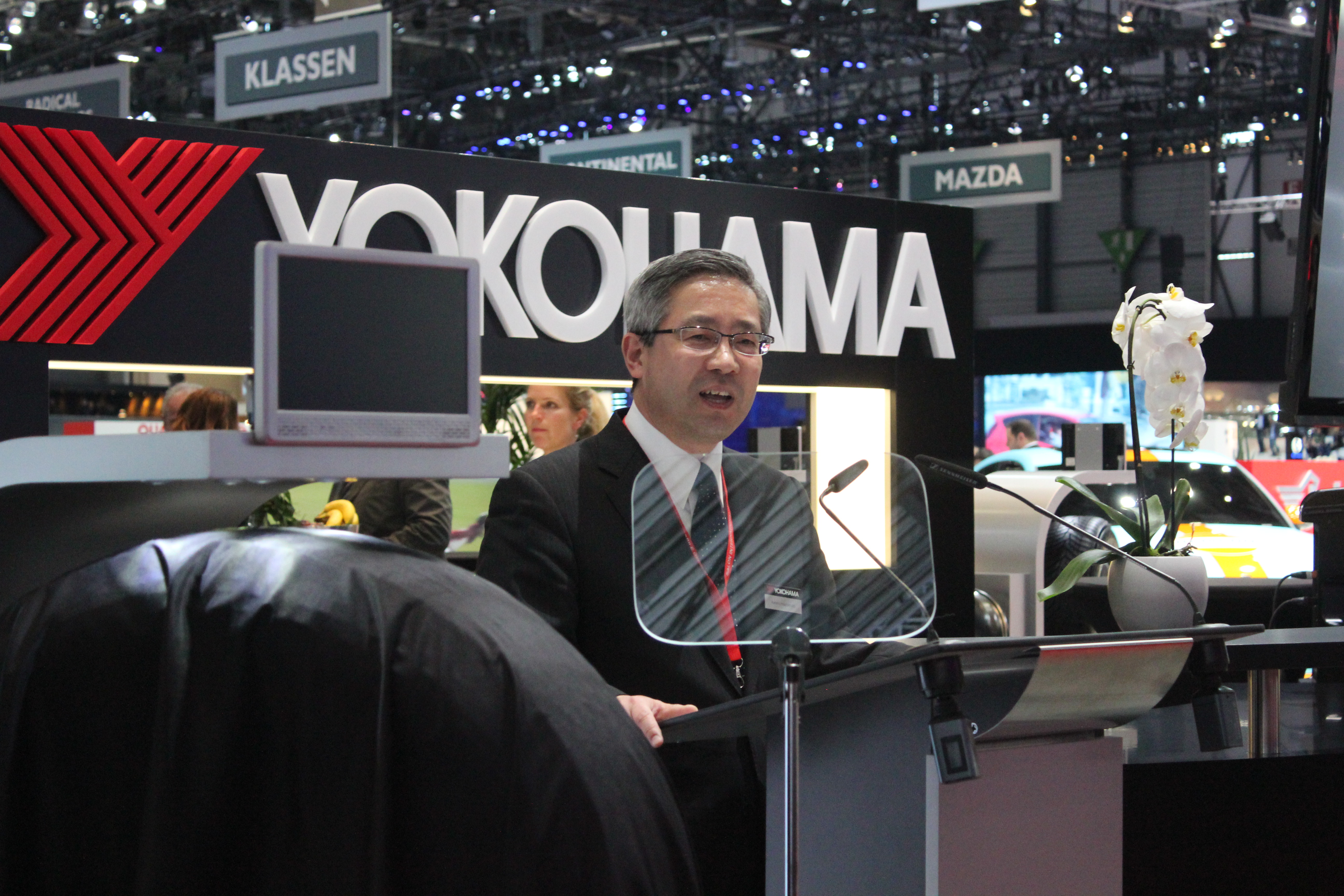 Where the new tyre fits in Yokohama's European 4X4/SUV thinking
At the start of March Yokohama announced plans to launch a new 4X4/SUV tyre – called the Geolandar H/T G056 – in Europe this summer. The Geolandar H/T G056 will be available in 25 sizes ranging from 15 to 20-inch diameters, completing the Yokohama line-up for on-road SUVs. Having witnessed the new tyre's unveiling at the Geneva Motor Show by Yokohama Europe GmbH president Keishi Hashimoto, Tyres & Accessories found out more about the thinking behind the new tyre and the segment in general.
The latest tyre's key performance developments include a 3 per cent improvement in wet performance, 4 per cent better rolling resistance, 13 per cent better dry handling and a huge 21 per cent better wear rate. Labels come out around E for rolling resistance and C for wet grip, with noise graded at 72 decibels (two waves).
The Geolandar H/T G056's launch is set against the background of the significant boost in the 4×4 market over the past 10 years. Most car manufacturers are now offering some kind of SUV or CUV which are becoming favourites among family buyers. Although few use them outside the city and in real off-road conditions, such vehicles provide practical aspects such as raised driving position and a feeling of safety, which drives their appeal. "We feel that our tyre range provides the quality, safety and performance aspects that European drivers require and demand", Yokohama Europe communications officer, David Oliva told T&A.
Indeed, according to Yokohama, the growing 4×4/SUV sector represented around 12 per cent of the market in the UK last year and the Japanese manufacturer naturally wants to adapt to the growing demands. "As tyre manufacturers we already have some very good SUV and crossover vehicle products with our Geolandar line-up, such as the Geolandar SUV which carries our BluEarth Icon – representing energy efficiency and environmental performance.  Additionally, this tyre enjoys our proprietary Orange Oil technology which by generating heat quickly in an active mode and providing more contact surface on wet and dry results in the all-important improved wet grip," Oliva explained.
The Geolandar range was launched in 1996 and it has been growing ever since. Geolandar is derived from the Greek word for the earth, "geo" and the English word "land" the idea being it is "the tyre capable of traversing any terrain on the earth." The range spans across the aforementioned Geolandar SUV for small and midsize SUVs driven primarily on city streets to the Geolandar A/T-S for all-around use, and the Geolandar I/T-S for winter driving. The Geolandar H/T G056 closes the gap between the SUV and the more off-road orientated products.
In light of falling fuel prices there has been some suggestion that such a cost reduction could have a positive impact on tyre buying. Yokohama representatives saw this as a possibility in the short term. However, in typically Japanese fashion, the firm says it does not base mid- to long-term strategies on what could be considered short term factors.
"We consider that energy efficiency is a must, not only for our pocket but also for our planet and we do already provide a range of Tyres that we branded with our BluEarth, energy efficiency and environmental icon as mentioned before. Our Geolandar line-up covers well this segment of SUV and crossover market as we provide specific tyres for specific performances," David Oliva commented.
Looking forward, Yokohama sees continuing growth in the SUV sector, more and more of which are driven in the city – something that has inherent impact on tyre design. "Before the surge in CUVs customer expectations may have been to accept less comfort in order to keep performance. However more increasingly the feeling on driving an SUV or a crossover vehicle is one more associated to the normal passenger cars, cruising in comfort, in an energy efficient manner keeping safety as the most important aspect and with plenty of room for practical purposes, at the same time as perhaps not focusing on the off-road capability."