Cooper challenges Arsenal players to footballing accuracy test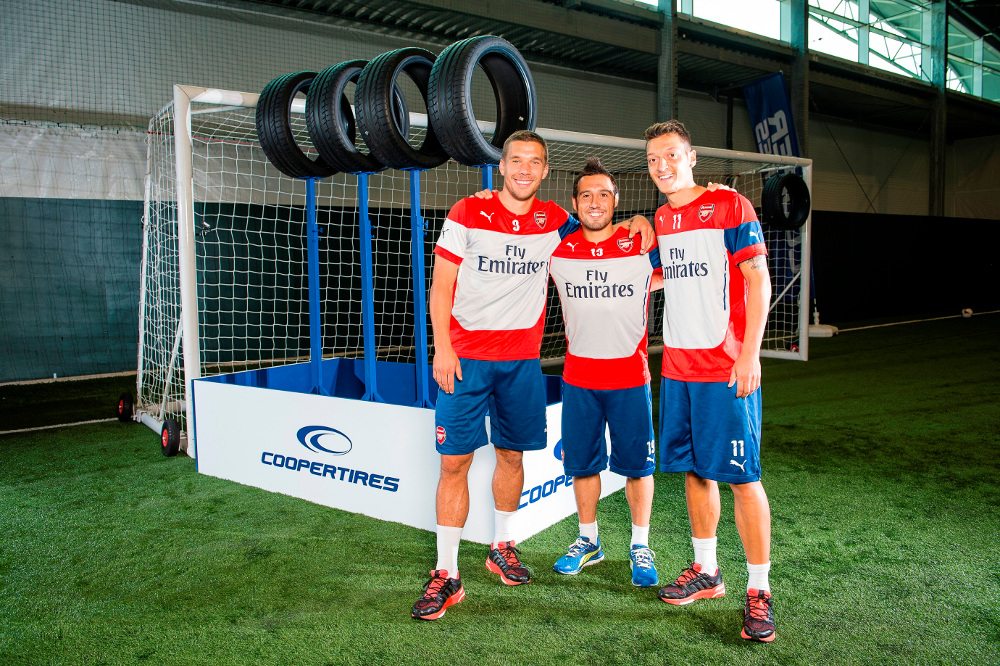 Cooper Tire Europe has produced a new video with the help of its partner, Arsenal Football Club. Midfielders, Santi Cazorla and Mesut Özil, and forward, Lukas Podolski were asked to show their accuracy skills on a bespoke structure topped with four of Cooper's Zeon CS Sport performance tyres. A secondary test involved aiming through a single tyre, hung from the top right of the goal mouth. The video is available to view below.
More of the watching Arsenal squad – Alex Oxlade-Chamberlain, Alexis Sanchez, Jack Wilshere, Aaron Ramsey, Joel Campbell and goalkeeper, Wojciech Szczesny were among the players who tested themselves in the Cooper challenge.
Cooper Tire Europe became the first "Official Tyre" of Barclays Premier League club, Arsenal, earlier this year. The deal will see the Melksham, Wiltshire headquartered division, the location of Cooper's European technical centre, support the London club for at least the next five Premier League seasons.
Cooper Tire Europe marketing communications manager, Sarah McRoberts, said: "We were only expecting to have the three players taking part but the rest of the team at the Arsenal training ground were intrigued by the accuracy test we'd set up.
"Before long, they all wanted to have a go and prove they were the best. The test certainly seemed to provide a decent challenge, even for world-class players like these and it was fascinating to see how players of their calibre adjusted after each kick to get closer and closer to the mark until they nailed it."