Tag: Vredestein Traxion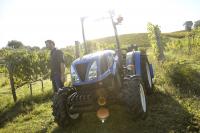 Vredestein will exhibit its latest Traxion tractor tyres on the French market at The Paris International Agribusiness Show (SIMA). The tyre manufacturer said it would showcase its new Traxion 65/70 for compact tractors along with the latest sizes in its Traxion Optimall VF range for large tractors. "It starts with the unique curvature of the tread cleats," says Ruud Nijland, divisional head sales for agricultural and industrial tyres Europe at Apollo Vredestein.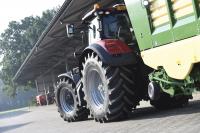 The launch of a flagship product is a tough act to follow, but Apollo Vredestein has managed to keep things interesting this past year. The ranks of its top-flight Traxion Optimall line have swelled since the tyre's launch at Agritechnica 2017, and the Vredestein brand is also experiencing growth further down the size scale. By doing so, doors are opening to markets where Vredestein isn't yet well known in agricultural circles.