Vredestein Traxion Optimall now offered in ploughing sizes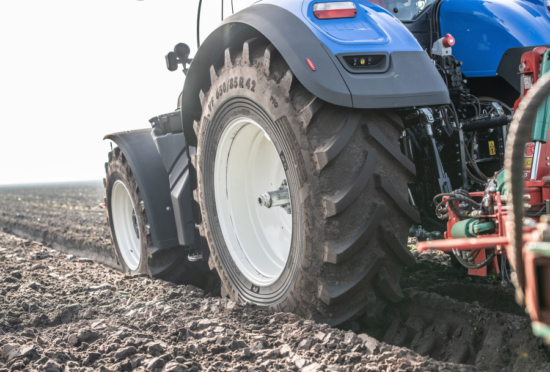 Vredestein has introduced further Traxion Optimall sizes. It says these additions to its 2018-launched Very High Flexion range are "ideal for ploughing" thanks to their maximum width of 65 centimetres. This enables the VF650/85R42 and VF650/85R38 tyres to "fit perfectly in the furrow." The manufacturer adds that the Traxion Optimall's traction and self-cleaning properties also make the tyre "very suitable for plough activities. In addition to these rear wheel fitments, Vredestein has released a new VF600/70R34 front wheel size.
Thanks to the use of F+ technology, the Traxion Optimall VF is able to carry high loads even at very low pressure. The flexible sidewall ensures an evenly distributed footprint, preventing any peak load on the shoulders at low pressure. The resulting soil preservation and pulling power is further enhanced by a curved tread, with the lugs at the end being more transverse to the driving direction. High traction means less slip and low fuel consumption, while the tyre's self-cleaning properties are due to the way the distance between the lugs increases from the centre to the side.
The Traxion Optimall VF has more rubber in the centre of the tread in the driving direction, providing continuous road contact and offering driving comfort. The F+ technology also keeps the shoulders stable at low pressure when driving at higher speeds. As for working life, Vredestein claims that Traxion Optimall tyres last 30 per cent longer than their premium competitors – longevity it attributes to the tyre's large contact area on the road and well-chosen rubber compound mix.
As well as being suitable for ploughing duties, Vredestein says a width of 65 centimetres and ability to carry high loads at low pressure make the new Traxion Optimall sizes a "perfect tyre" for self-propelled and trailed sprayers.